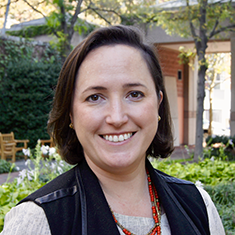 Kirsten Pfeiffer leads the design and implementation of complex agriculture market systems and investment facilitation projects. She specializes in development approaches that facilitate behavior change through market actors, including farmer groups, processors, traders, exporters, agro-input suppliers and service providers, financial institutions, business support, and advisory services firms. Kirsten is currently the Deputy Chief of Party on the DAI-implemented Feed the Future Inclusive Agricultural Markets (IAM) activity, leading the overall implementation of its market systems development approach, which focuses on scaling inclusive business models that benefit women, youth, and marginalized persons living in Karamoja and refugee communities.
Prior to her role on the Uganda FtF IAM activity, Kirsten joined DAI's Agriculture and Food Security team after two and a half years in Rwanda as Deputy Chief of Party on a private sector-focused agriculture development project. She has experience in finance and development, focusing on strategic partnerships with the private sector and facilitating investment in frontier markets. Kirsten is a member of the finance and investment community of practice and has led research and analysis for DAI on frontier market investment strategies. Within her work on mobilizing greater private investment in agriculture in developing markets, Kirsten is keenly interested in the growth of gender-lens investing and its crosscutting application to DAI's development work.
M.A., international relations and economics, Johns Hopkins School of Advanced International Studies
x
RELATED CONTENT:
Hussan Bano Burki is a senior economic development professional with more than 19 years of technical and managerial experience in development finance, small enterprise development, e-commerce, trade policy, and customs facilitation.
Read More