October 18, 2018
DAI Global Health's Dr. Fatima Adamu, National Programme Manager for the Women for Health (W4H) programme in Nigeria, spoke today at the U.K. Department for International Development (DFID) Safeguarding Summit at the QEII Centre in London.
The summit was convened by International Development Secretary Penny Mordaunt following the U.K. International Development Committee's July report, Sexual exploitation and abuse in the aid sector. The theme of the summit is "Putting people first: Tackling sexual exploitation, abuse and sexual harassment in the aid sector." Its goal is to agree on actions and guidelines to ensure that everyone engaged in the aid and development sectors takes all responsible steps to prevent sexual exploitation, abuse, and harassment and to respond appropriately when it does occur.
Dr. Adamu (pictured) appeared on a panel discussing "Survivor support: what does a survivor-centred approach look like?" She drew on her experience leading W4H, a U.K. Department for International Development programme managed by DAI Global Health. W4H works to increase the number of female health workers and deploy them in rural areas to reduce maternal and child mortality in Northern Nigeria. The first phase of the programme was implemented in five states; in March 2018, it was expanded to address the deepening humanitarian crisis in Borno state.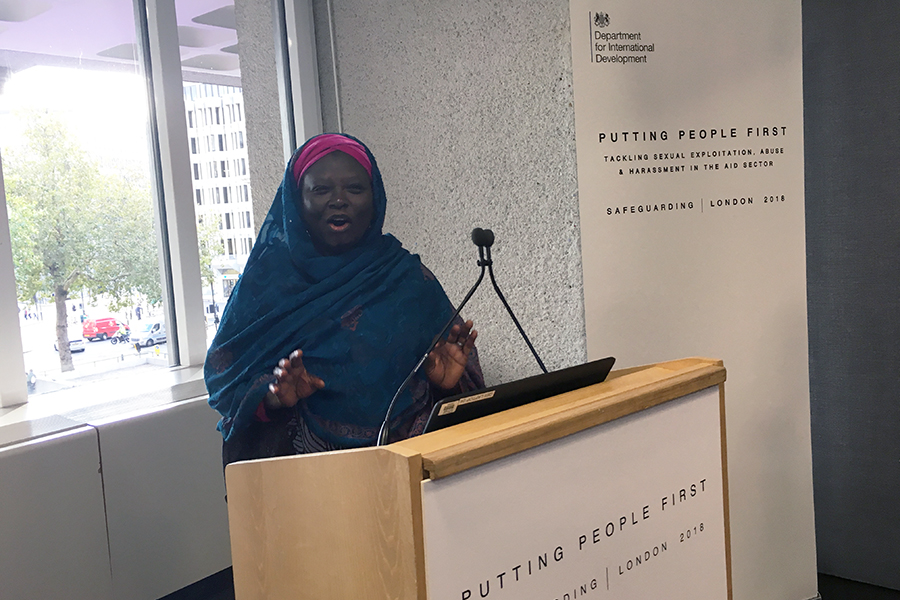 In her remarks, Adamu noted that the sexual abuse and exploitation of women and girls by Boko Haram insurgents and military, security, and camp personnel in Nigeria is well documented. "The situation is made worse by the transactional nature of these abuses and exploitation where women were not only raped but also forced to sell their body for food and other essential commodities," she said.
An assessment of internally displaced people's camps in Borno, Adamawa, and Yobe states—conducted in 2016 by NOI Polls—found that 66 percent of the 400 women interviewed said camp officials sexually abuse them. Of the 101 young women enrolled for W4H training as midwives and nurses in Borno this year, Adamu added, 37 percent have experienced sexual assault or know a friend who has been assaulted—a figure likely to be under-reported given the culture of silence that still surrounds gender-based violence.
Despite this evidence, limited support systems exist for survivors. W4H offers an opportunity to address these gaps by strengthening healthcare systems to increase the numbers of women health workers in rural areas. Given the amount of trauma in Borno, Adamu noted, W4H is expanding its focus to train health workers in mental health service provision.
"Our prospective students, the young women, are not only displaced from their communities, many of them have been out of school for a long time and have experienced different forms of trauma," said Adamu. "Only 8 percent reported not experiencing trauma." Accordingly, it became clear that W4H would have to develop a comprehensive, survivor-centred approach that responds to the needs of these young women.
Among the key components of this approach, W4H is putting in place robust safeguarding mechanisms to mitigate the high risk of sexual harassment, exploitation, and abuse. It is also integrating a whole-programme approach to gender equality and women's empowerment: this includes supporting health training institutions in Borno to encourage a gender-equal culture and social norms, ensuring female tutors and female leadership come to the fore in these institutions, and upholding student voice and female participation in the student union.
Adamu joined 500 delegates at the summit, alongside representatives of NGOs, multilateral organisations, private sector suppliers, donors, governments, beneficiaries, survivors, parliamentarians, independent experts, law enforcement agencies, and the media. Also attending from DAI were Christopher Lockett, Managing Director of DAI Europe; Sarah Maguire, Director, Governance, who testified at the International Development Committee's original inquiry into sexual exploitation and abuse in the aid sector; and Jeremy Finch, Director, Internal Audit, Ethics, and Compliance.