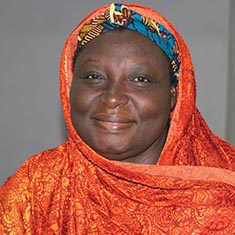 Fatima Adamu is a sociologist by training with particular expertise in gender, poverty, and equity issues in northern Nigeria. Fatima is also an expert in qualitative research and coordinated many qualitative studies, for example, she was the coordinator of one component of a multi-country research project that studied the interaction between religion and development, funded by the Foreign, Commonwealth & Development Office (FCDO).
She has worked extensively in Nigeria, most recently with the Women for Health programme, which trained thousands of new female health workers in five northern states. As the National Programme Manager for Women for Health since 2012, she worked to establish and maintain effective working relationships with key stakeholders from the Ministry of Health, parastatals, regulatory training bodies, midwifery training institutions, and donors. She oversaw inception plans, budgets, and reports, and led advocacy work to ensure the promotion of women's empowerment issues.
Before that, Fatima was a Professor of Sociology at Usmanu Danfodiyo University and later a Director of Planning and Research at the National Centre for Women's Development in Nigeria. She was also the Social Development Advisor for a programme that strengthened routine immunisation and maternal and child health in Northern Nigeria. Here, she led advocacy to key stakeholders to improve maternal health care services in four states.
Ph.D., University of Bradford
Diploma, research methods, University of Bradford
M.S., sociology, Bayero University, Nigeria
B.S., sociology, Usman Dan Fodio University, Nigeria
x
RELATED CONTENT:
Lara Brock has more than 15 years of experience in global health and development projects across Asia and Africa.
Read More