Nigeria—Women for Health (W4H)
Client: U.K. Department for International Development
Duration: 2012-2020
Region: Sub-Saharan Africa
Country: Nigeria
Solutions: Health
Northern Nigeria suffers from critical health sector human resource challenges. Up to 90 percent of women deliver their babies without a skilled birth attendant present in northern Nigeria, compared to 35 percent of women in the southern region of the country. And in Jigawa state, there are only five nurses per 100,000 people, compared to Enugu state in the Southeast with 59 per 100,000 people. These are just a few examples. The U.K. Department for International Development (DFID) is tackling this problem by empowering women as service providers in five states in northern Nigeria through its Women for Health (W4H) programme.
W4H works closely with other existing health and education programmes in the states as well as with government partners and other organisations including Save the Children, GRID Consulting Ltd., the Clinton Health Access Initiative, Mailman School of Public Health, Heilbrunn Department of Population and Family Health, Columbia University, Royal College of Midwives, Usmanu Danfodiyo University Sokoto, Bayero University Kano, and Advocacy Nigeria.
Collaborating with 20 Midwifery, Nursing and Community Health Extension Worker Training Institutions and state ministries of health, W4H aims to support the training of more than 6,000 female health workers and support their deployment to rural health facilities where they can have the greatest impact on maternal, infant, and child mortality.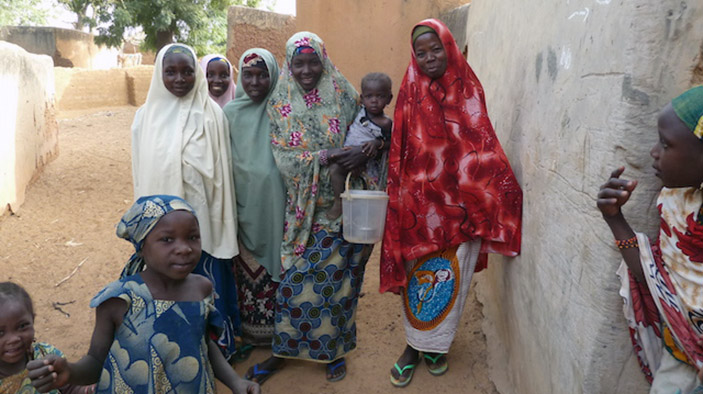 Sample Activities
Improve the training of female health workers.
Strengthen the recruitment and retention of female health workers in rural health facilities.
Engage with community and religious institutions to create a gender-friendly environment for women to pursue health careers.
Select Results
Increased by more than 4,000 the number of students in training by supporting health training institutions to gain, regain, maintain, and increase accreditation. Watch these videos to learn more.
Strengthened management systems and structures of training institutions to provide an appropriate environment for high-quality professional training.
Improved female-friendliness of health training institutions by increasing gender sensitivity of staff, constructing female-friendly accommodation, improving security, providing counseling, child care facilities, and increasing the proportion of female tutors and managers.
Helped nine schools receive full accreditation and 11 to achieve provisional accreditation.
Constructed 35 houses to accommodate midwives.
Helped elevate women to the role of principal at seven of 20 institutions.
x
RELATED CONTENT:
The Jalin program, meaning "intertwined or interwoven" in Indonesian, promotes locally developed solutions to reduce maternal and child mortality in Indonesia by working with diverse partners to co-create and co-invest in new life-saving ideas.
Read More