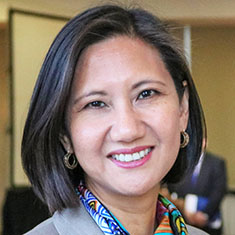 Noemi Danao-Schroeder first worked internationally as a summer volunteer for a rural vaccination campaign in Paraguay. That experience kickstarted 25 years of international development work. After finishing her undergraduate degree, Noemi took a nine-month volunteer assignment in Nicaragua, eventually staying in the country for nine years. During that time she founded and led a Nicaraguan nongovernmental organization (NGO) that developed the first health and environmental education curriculum for children created for, and by, rural educators. After returning to the United States, she worked as development director for a water and reforestation NGO.
The "call abroad" came once again, and Noemi and her family moved to the cloud forest of Costa Rica where she served as Executive Director of the Monteverde Institute. A few years later Noemi joined SNV in The Hague, Netherlands. Noemi served as country representative for Nicaragua, and then was promoted to Head of Business Development and Communications for Latin America in Quito. Noemi and her family returned to the United States in 2012 when she joined DAI on the SERVIR project, a joint initiative of NASA and the U.S. Agency for International Development (USAID) to advance the use of geospatial information and technology for environmental decision-making in more than 30 countries.
Most recently, she served as Chief of Party for the United for Justice project in Honduras and as an Senior Adviser on the INVEST project.
M.S., community development, University of California, Davis
M.B.A, Graduate School of Management, University of California, Davis
B.A., social sciences, University of California, Berkeley
x
RELATED CONTENT:
Jeremy Kanthor oversees DAI's technical sectors and business development for our work with the U.S. Agency for International Development (USAID), the State Department, and other U.S. Government clients.
Read More