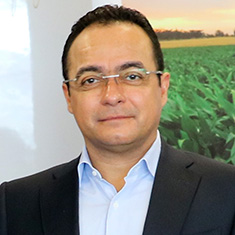 Juan Estrada-Valle is an international expert in agriculture, trade and investment, and on the promotion of development in conflict-affected environments. He is currently the Chief of Party of the Afghanistan Value Chains-High Value Crops project, supporting the growth of the agriculture sector through a highly focused approach, using anchor firms as entry points into the agricultural value chains.
Before his current assignment, Juan was the Chief of Party of the East Africa Trade and Investment Hub, a multi-country, multi-sector initiative to promote trade, investment, food security, and policy change in eight East African countries.
Throughout his career, Juan managed large-scale and complex development projects funded by the United States Agency for International Development in Africa, the Balkans, and South Asia. He was a Senior Scientist in trade economics at the International Crops Research Institute for the Semi-Arid Tropics, and before beginning his development career he was an agribusiness entrepreneur.
He is a Board Member of the Agribusiness Economics and Management Section of the Agricultural and Applied Economics Association, and in 2015 received a special commendation from the Government of the Islamic Republic of Afghanistan for his work rehabilitating the agriculture sector.
Ph.D., international development, agri-food systems economics, Michigan State University
Postgraduate Diploma, stabilization and development operations in fragile states, U.S. Naval Postgraduate School
M.S., agricultural economics, Michigan State University
B.S., agronomy, animal science, Universidad de San Carlos, Guatemala
x
RELATED CONTENT:
For the last decade, Keith Doxtater has provided strategic direction and project management expertise from both the field and home office for U.S. Agency for International Development projects in Indonesia, Kenya, Myanmar, the Philippines, Somalia, and Sri Lanka.
Read More