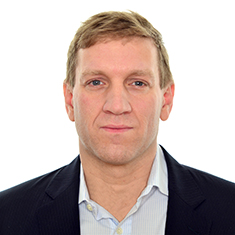 John Maris is DAI's Acting Chief Financial Officer. As the head of DAI's Finance team, John maintains the integrity of the company's financial statements, ensures compliance with all financial regulators and tax authorities, leads our business forecasting and modelling work to inform strategic and operational decisions, and ensures that the company is appropriately capitalized to achieve its development mission.
Based in London, John simultaneously oversees DAI Capital, a business unit created and developed under his direction. DAI Capital builds on DAI's in-depth market knowledge to catalyze private investment within and into frontier and emerging markets.
John previously served as Director of the Project Management Unit in our Europe office, where he provided strategic guidance to large-scale programmes for clients including the Foreign, Commonwealth and Development Office (FCDO), the European Union, the Millennium Challenge Corporation, and the World Bank.
John joined DAI from Relief International, where he was Senior Vice President for Programs. Prior to that, he worked for tech startup Aeromesh, private equity firm H.I.G. Capital, and in the corporate strategy department of The Walt Disney Company. He was a founding board member of the Centre for Development Results and has served as chair of the International Development Working Group for British Expertise.
M.B.A., University of Oxford
B.A., public and international affairs, Princeton University
Devex interviews John Maris in October 2019 about DAI Capital.
x
RELATED CONTENT:
Doug McLean provides strategic management and operational support to priority projects and countries and is part of the Sustainable Business Group technical leadership support team in areas related to innovation program design, management of accelerators, small business development, coding, and access to finance.
Read More