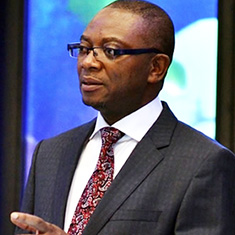 Originally trained as a barrister in Nigeria, Joe Abah gained extensive experience in the governance sector, working on public sector reform programs for the U.K. Prime Minister's Office. He has spent more than 10 years managing governance programs in Nigeria for the U.K. Department for International Development, including on the DAI-led State Partnership for Accountability Responsiveness and Capability project.
From 2013 to 2017, Joe took a post with the Government of Nigeria as Head of the Bureau for Public Sector Reform. He has now returned to DAI to serve as Country Director for Nigeria, where he provides technical and strategic inputs to DAI's existing portfolio of projects, in addition to supporting business development initiatives.
Ph.D., Maastricht University, The Netherlands
M.A., business law, London Guildhall University, United Kingdom
Bachelor of Laws, University of Calabar, Nigeria
x
RELATED CONTENT:
Jeremy Kanthor's interest in governance started during a high school trip to Dakar, Senegal, that coincided with presidential elections. After observing an opposition rally and getting caught between opposition supporters hurling rocks and police using tear gas, he was quickly ushered into the home of the leading opposition candidate, Abdoulaye Wade.
Read More