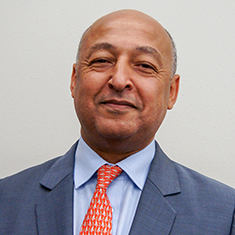 Gabriel Abraham has more than 25 years of experience leading local governance and decentralization projects worldwide. A seven-time Chief of Party, he is a recognized expert in guiding strategies to strengthen public institutions, facilitate citizen engagement, and enhance service delivery in some of the world's most complex and nuanced operating environments.
He has worked in 18 countries adapting programming to the needs of highly sophisticated and emerging countries and to those of poorly resourced and underdeveloped ones. Gabriel's experience includes designing strategies for policy reforms and local government administrative transformations and then operationalizing the strategy with a team of local and international advisors.
Prior to his work with DAI, Gabriel worked for Deloitte, RTI, and Abt Associates where he managed progressively complex governance projects. He supported the creation of the independent state of South Sudan with the complex array of activities to support a new nation including legislation, formation of national and subnational institutions, and international accords. At Abt, he developed the urban plan for the pharaonic city of Luxor, Egypt.
Loeb Fellowship, Harvard University
M.Sc., urban planning, Columbia University
M.A., architecture, Columbia University
B.Sc, Haverford College
x
RELATED CONTENT:
Enrique Giraldo has more than 20 years of experience in tax policy and administration, public expenditure reforms, IT system development management, and management credentials in leading U.S. Agency for International Development projects.
Read More