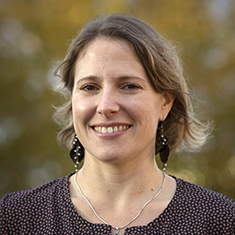 Catherine Wallis is a member of our Climate unit, where she helps build world-class teams, offerings, and networks across DAI and among partners to deliver exceptional and impactful climate action. She previously led Climate and Natural Resources portfolio within the Resilience team, supporting business development, technical assistance, and project management.
Catherine has 20 years' experience delivering multi-annual programs delivering rural development, sustainable livelihoods, and social development outcomes in more than 30 countries in Africa, Asia, and the Indian Ocean. She has also led multiple business case development and project evaluations for multiple donors. For the past 12 years, she specialises in climate action, ecosystem-based adaptation, natural resources management, and biodiversity conservation.
Since 2018 she oversees DAI's Adapt'action framework contracts in small and developing island states financed by French Development Agency (AFD). These strategic assignments support host governments to operationalise their Paris Agreement commitments by integrating climate risks into sectoral policies and enabling access to climate finance. The Indian Ocean Hydromet programme formulation mission successfully resulted into approved funding by the Green Climate Fund and the AFD in March 2021.
MSc, environmental policy, planning and sciences, University of Bath
MSc., agronomy, Ecole Nationale Supérieure d'Agronomie et des Industries Alimentaires
x
RELATED CONTENT:
George Akl is an institutional governance and development expert with 25 years of experience working with international donors supporting water and wastewater, environment, and private sector engagement programs across the Middle East and North Africa.
Read More