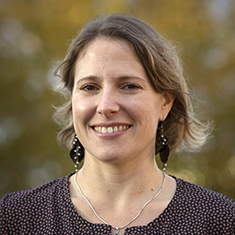 Catherine Wallis leads our Climate and Natural Resources Team, supporting business development, technical assistance, and project management with a focus on resilient and food-secure communities, healthy productive ecosystems, and sustainable development outcomes in the context of climate hazards. Catherine has more than 15 years of experience delivering international development projects in Afghanistan, Bangladesh, Burkina Faso, Ethiopia, Chad, Comoros, Ghana, India, Ivory Coast, Kenya, Liberia, Madagascar, Malawi, Mauritius, Nigeria, Tanzania, Uganda, and Vietnam. She has experience in working with smallholder farmers and communities in fragile environments in Africa and Asia. Her expertise lies in climate resilience and risk management, climate-smart agriculture, ecosystem-based approaches, and adaptive social protection.
She currently oversees DAI's Adapt'action framework contracts in small and developing island states financed by the Agence Française de Developpement (AFD). These short and strategic assignments support host governments in implementing their Paris Agreement commitments by integrating climate risks into sectoral policies and programming, as well as supporting access to international climate finance. The Indian Ocean Hydromet programme formulation mission successfully resulted into approved funding by the Green Climate Fund and the AFD in March 2021.
She provides thought leadership for mainstreaming climate solutions that enhance the development impact of DAI's projects, such as Ethiopia's GCCA+ Climate Smart Approaches for the Productive Safety Net Programme (PSNP). She also provides peer review guidance to in-house framework and call-down contracts with the Foreign, Commonwealth & Development Office and the European Union relating to climate, resilience and the environment.
MSc, environmental policy, planning and sciences, University of Bath
MSc., agronomy, Ecole Nationale Supérieure d'Agronomie et des Industries Alimentaires
x
RELATED CONTENT:
Bruce Spake leads the company's development initiatives in the Middle East, North Africa, and Afghanistan.
Read More