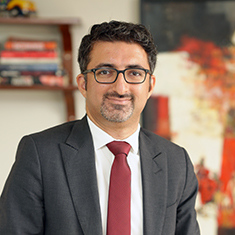 Arsalan Ali Faheem leads DAI's corporate team in Pakistan as Country Director. A member of DAI's global senior leadership team, Arsalan brings more than 13 years of experience in corporate strategy and private sector development in growth markets in Africa, the Middle East, and South Asia. He is a certified director from the Pakistan Institute for Corporate Governance.
As strategy advisor, Arsalan has been a core contributor to DAI's global diversification strategy, advising DAI corporate platforms on service innovation and new market development key locations—including Jordan, Mexico, Pakistan, South Africa, and the United Kingdom. As a member of DAI's International Business Group, he was part of a successful transformation team set up to expand engagement market share with the U.K. Foreign, Commonwealth & Development Office (FCDO) and European Union (EU).
Arsalan has deep expertise in private sector development with both public and private sector clients—including the World Bank, FCDO, U.S. Agency for International Development, EU, Chevron, and Kosmos Energy. He has delivered and advised on economic competitiveness projects in several countries, including Nigeria, Palestine, Somalia, Tanzania, and others.
As an entrepreneurship and innovation advisor, Arsalan most recently helped to set up the Innovative Private Sector Development project in Palestine, funded by the World Bank. In Nigeria, he has served as an international expert to Chevron's Facility for Partnership Initiatives in the Niger Delta, and in Ghana, helped conceive the Kosmos Innovation Center for entrepreneurship. He has also been a startup mentor as part of Shell's LiveWIRE programme.
Arsalan is a commentator on economic development and international affairs. His commentary has appeared in Bloomberg, MIT Technology Review, Express Tribune-International Herald Tribune, 3 Quarks Daily, The Friday Times, The News, Daily Times, Voice of America, and CNBC Pakistan.
Arsalan speaks fluent English, Urdu, and Punjabi, and proficient Arabic.
B.A., business administration, finance, Institute of Business Administration-Karachi
M.A., public policy, Brown University
x
RELATED CONTENT:
James Naughton is a Principal at DAI's office in the United Kingdom, with expertise in facilitating and promoting investment globally through blended finance and private investment.
Read More