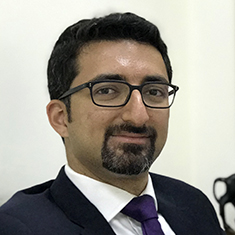 Arsalan Ali Faheem is Director of Strategy and Business Development with DAI's corporate office in Pakistan, where he leads corporate strategy, client engagement, and new business development. As a member of DAI's Global Senior Leadership Team, Arsalan brings more than 11 years of experience in corporate strategy and has designed and executed economic competitiveness and entrepreneurship projects in emerging markets in Africa, South Asia, and the Middle East. He has advised strategy for DAI's corporate platforms in key locations—including Jordan, Mexico, Pakistan, and South Africa, and the United Kingdom—focused on service innovation and new market development.
Arsalan has a wealth of expertise across both public and private sector clients – including the World Bank, the U.K. Foreign, Commonwealth & Development Office, U.S. Agency for International Development, European Union, Chevron, and Kosmos Energy. He is an experienced economic advisor, having delivered competitiveness and entrepreneurship projects in Ghana, Kenya, Nigeria, Palestine. Somalia, and Tanzania. He serves as DAI's Technical Director for the Innovative Private Sector Development programme and previously served as Market Development Lead for the Palestinian Market Development Programme. In Nigeria, he has served as an international expert to Chevron's Facility for Partnership Initiatives in the Niger Delta, and in Ghana, helped conceive the Kosmos Innovation Center for entrepreneurship.
Arsalan speaks fluent English, Urdu, and Punjabi, and proficient Arabic.
B.A., business administration, finance, Institute of Business Administration-Karachi
M.A., public policy, Brown University
x
RELATED CONTENT:
Brianna Cole is a Global Practice Specialist in DAI's Private Sector Development and Skills practice.
Read More