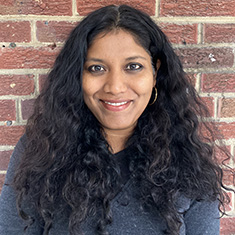 Vishalini Lawrence is the Senior Director of the Resilience, Fragility, and Inclusion practice. She has 15 years of experience leading peacebuilding, stabilization, and governance programs in Kenya, Malaysia, and Somalia.
In Somalia, she witnessed transformative change in some of the most marginalized and insecure areas as a result of co-design and co-investment with Somali communities and the private sector and learned about what works and what doesn't when it comes to delivering aid with dignity and impact. In Malaysia, she was inspired by the brave actions of civil society organizations, most of whom were women or youth-led, advancing democratic reform to shape a more inclusive and fair society.
In her role, she works collaboratively with international, national, and local partners to strengthen resilience systems, through inclusive and locally led processes. "In many of the complex environments in which we work, the problems we're trying to tackle are complicated and interconnected, therefore pathways to addressing them necessarily involve collaboration and a systems approach," she said.
M.A., international development studies, Ohio University
B.A., international studies, Ferrum College
x
RELATED CONTENT:
Kent Piper has more than 25 years of professional experience, largely in senior or executive management roles. Steeped in various aspects of corporate finance and operations, he also has direct program management experience in client engagements.
Read More