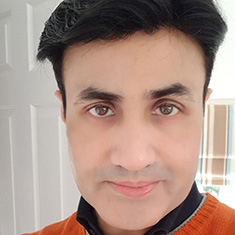 Umer Khanzada possesses more than 20 years of experience in international donor development project management, monitoring, evaluation, learning, and value for money management. Over his career, he has managed various large projects focusing on democracy and governance, economic growth, community participation, humanitarian assistance, and social service delivery in both education and health care. He has a strong ability to lead strategic planning, results-based management, monitoring, evaluation, and reporting of development projects.
As Project Director of Monitoring, Evaluation, and Learning, Umer is providing technical leadership to DAI's Europe approach to effective monitoring and evaluation and to support all efforts geared towards Managing for Development Results across the entire portfolio. He is also Team Leader for the Alignment, Monitoring, and Results programme, providing overall technical, administrative, financial, and personnel management, ensuring technical quality and effective delivery.
MSc., urban and regional planning, University of Engineering and Technology, Lahore, Pakistan
MBA, College of Business Administration, Lahore, Pakistan
x
RELATED CONTENT:
Said Abu Hijleh, DAI Country Director in Palestine, is an executive manager and private enterprise development specialist with more than 25 years of experience building economic resilience and creating market linkages for the West Bank and Gaza.
Read More