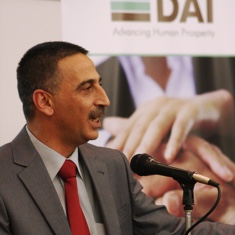 Said Abu Hijleh is an executive manager and private enterprise development specialist with more than 25 years of experience building economic resilience and creating market linkages for the West Bank and Gaza Strip. Said has an unparalleled understanding of the development, political, and business climate issues in the West Bank and Gaza Strip, having worked in the private sector and with donor programs in the region since 1990. He joined DAI in 1996 and served on mutli-large private sector development projects funded by the U.S. Agency for International Development, the U.K. Department for International Development, the World Bank, the European Commission, and the Palestinian Government. He currently serves as DAI Country Director in Palestine and COP of USAID Compete.
International Executive M.B.A., Kellogg-Recanati School, Northwestern-Tel Aviv University
x
RELATED CONTENT:
As Project Director of Monitoring, Evaluation, and Learning, Umer Khanzada is providing technical leadership to DAI's Europe approach to effective monitoring and evaluation and to support all efforts geared towards Managing for Development Results across the entire portfolio.
Read More