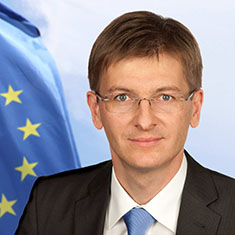 Oliver Mader leads DAI's Governance practice in our European Union (EU) Business Unit. Originally recruited by various EU institutions for his expertise in public procurement and EU law, Oliver gained extensive experience in good governance such as justice, rule of law, EU integration, international cooperation, public financial management, institutions building, policy reform, and sustainable development. With more than 25 years of professional background, he has implemented EU projects across a wide range of countries, managing more than 30 flagship projects.
Oliver has headed various complex field assignments and served as a legal expert, attorney, and manager at various EU institutions—the European Commission, the European Court of Auditors, the EU Task Force Kosovo, and the European Agency for Reconstruction. He is currently leading the public finance management project for the Kenya Technical Assistance to the Public Accountability and Service Delivery Programme (PASEDE), the Support to Public Finance Management Reforms in Ethiopia (EUSPRE), and a project in the Republic of Moldova assisting the country in its endeavor to join the European Union.
Ph.D, University of Passau, First State Exam & Second State Exam Law, Bavaria/Germany
Diploma and M.A., European Union law, King's College London
Member of the Council, European Law Institute
x
RELATED CONTENT:
Marifer Martinez has 23 years of experience with international donor-funded programs in Honduras.
Read More