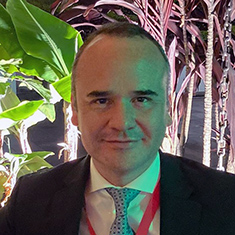 As DAI's chief representative in Colombia, Norberto Martinez oversees DAI's relationships with existing and potential new customers, and supports DAI's work across all technical sectors and clients, from international donors and governments to private sector and other local stakeholders.
Norberto is a senior international development professional with a track record of successfully designing and implementing large-scale public policy and development assistance programs. Working across both public and private sector organizations, he has held leading roles in project management, business development, and technical assistance delivery, including in complex, politically sensitive, multicultural environments in Latin America and Africa.
Before joining DAI, Norberto worked for the Inter-American Development Bank in Colombia, advising the Office of the Vice President and Government of Colombia agencies responsible for Colombia's participation in the Organization for Economic Cooperation and Development. Previously, he worked as a governance consultant for the World Bank, as an anti-corruption consultant for the U.S. Agency For International Development (USAID) in Benin, and as a program manager for the United Nations Human Settlements Program. From 2010 to 2014, Norberto managed USAID's $24 million Public Policy Program in Colombia.
Fluent in English, French, Spanish, and Portuguese, Norberto has also lectured on trade policy at various universities in Bogota, where he now makes his home.
Master's degree, management of international organizations, Bocconi University, Italy
Master's degree, European business, ESCP Business School, France
B.A., politics and international relations, University of Kent, United Kingdom
x
RELATED CONTENT:
Polly Gillingam joined DAI in 2000 and has 25 years of experience in the international development sector.
Read More