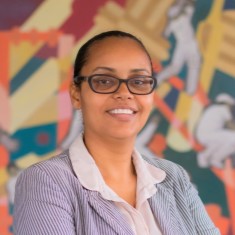 Natasha Gaskin-Peters is an economist with experience in both micro- and macroeconomics. Her experience covers the real and fiscal sectors, including modelling and forecasting gross domestic product (GDP), fiscal revenues, fiscal expenditure, and inflation—as well as analytics on interlinkages between sectors. Natasha also has experience conducting statistical and econometric analysis of households and measuring efficiency in the private sector.
Natasha is Deputy Director at the Centre for Local Business Development in Guyana, which is managed by DAI. She works with companies to assist them in entering the oil and gas value chain. This involves conducting gap analytics to identify strengths and weaknesses within Guyanese companies and advising these companies on ways to close gaps to improve efficiency and productivity. Natasha is the main facilitator for the Centre's Offshore Oil and Gas course and assists with the management of Centre staff and daily operations. She is also involved with DAI's Local Content Policy Reporting (LCPR) tool.
Natasha is the former Chairman of Guyana's Bureau of Statistics and a former Director on the country's Small Business Bureau's Board. She played an active role in determining policies to guide these two institutions.
Ph.D., economics, University of Reading, United Kingdom
M.Sc., agriculture economics, University of Reading, United Kingdom
x
RELATED CONTENT:
Tate Crowards is an Associate Analyst with the Sustainable Business Group (SBG) with a background in research synthesis and both qualitative and quantitative analysis.
Read More