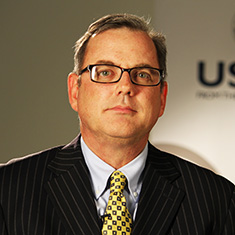 Mark McCord has more than 36 years of experience in competitiveness, economic growth, and organizational development, including 21 years as a Chief of Party or Project Director for donor-led programs. His work has spanned five continents, where he has advised both private sector and senior government leaders on economic growth, led competitiveness efforts that facilitated more than 100,000 jobs and $2 billion in investment, and development partnerships that generated more than $100 million in past and planned economic impact. In his varied career, Mark has provided technical assistance to developing country public, private, and nongovernmental sector counterparts in promoting prosperity through job creation, trade and export enhancement, public policy development, innovation, and value chain development. He has extensive experience in Eastern Europe and the Balkans, Central Asia, Africa, the Middle East, and North Africa. In all, his career has spanned 93 countries on five continents.
Prior to his international development career, Mark led metropolitan economic development authorities in the United States for more than 15 years, winning Oklahoma Chamber of Commerce Executive of the Year on two different occasions (1989 and 1993) and being named one of the 40 top leaders in Colorado Springs under 40 years of age in 1998. He was also acknowledged by the U.S. Department of Defense for his support for military men and women in the cities where he served. In 2017, he was named a Rockefeller Foundation Global Fellow for his service in leadership and education.
Mark has received numerous accolades from clients and the U.S. Government for his leadership of engagements, results-oriented focus, and strong teambuilding skills, including being named as a Senior Bellagio Fellow by the Rockefeller Foundation. He is an internationally acclaimed writer, author, and speaker on topics from economic growth to leadership.
B.S., Southwestern Oklahoma State University
M.A., Gonzaga University
x
RELATED CONTENT:
Katja Silva-Leander is a Director at DAI, specializing in development and climate finance, with over 20 years of experience working in the financial services and international development fields.
Read More