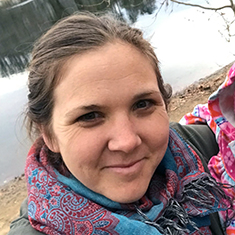 Kira Griswold is a dynamic leader and problem solver with more than 13 years' of experience in international program design, implementation, and operations in complex environments. She is a proven manager of donor-funded projects with technical expertise in citizen security, crime and violence prevention, and local governance through community-based programming and a geographic focus in Latin America.
Kira currently serves as Chief of Party with the Honduras Unidos por la Justicia Activity, a U.S. Agency for International Development (USAID)-funded project implementing tertiary prevention and juvenile justice sector strengthening across five municipalities.
Previously, Kira held long-term field leadership roles for programs in Central America, where she served as Deputy Chief of Party and then Chief of Party for the USAID El Salvador Crime and Violence Prevention Program. Prior to that, she served as Operations Manager for USAID Honduras Convive! Program, focused on community cohesion and community policing. In addition, Kira has global experience conducting short-term technical assistance, including leading program design and technical deliverables, in Latin America and the Caribbean, Africa, Central Asia, and the Middle East.
M.B.A., global social sustainable enterprise, Colorado State University
B.A., international development and Spanish, American University
x
RELATED CONTENT:
Richard Haselwood is an international development professional with more than 18 years of experience designing and implementing democracy, governance, and resilience programming in support of more accountable, effective, and inclusive governance.
Read More