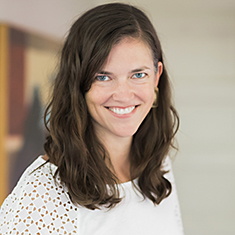 Kate Heuisler walked into the discipline of archaeology while still in high school. In Mexico on an arts and culture summer program run by her mother, Kate was first captivated by visits to see Aztec rock art paintings. After visiting sites, and studying intensively at local libraries, she convinced her professor to let her work with him the next summer to map an undiscovered site from the 11th century. Kate then went on to study archaeology at the University of Pennsylvania. She soon realized she wanted to further concentrate her studies on cultural anthropology to better understand the incentives, hierarchies, and networks that drive people and culture, not just how stories were told in the past. In today's transactional world, these were bedrock lessons to help define and design the work she does today.
Kate is a three-time Chief of Party and has 20 years of experience designing and managing development programs in 17 countries across the globe. She is currently the Chief of Party for the SPEED project, an economic policy reform and implementation project working to improve the enabling environment for businesses in Mozambique that is funded by the U.S. Agency for International Development (USAID). Previously, she was an Advisor with DAI's Center for Digital Acceleration, where she led the Cambodia portfolio for the Digital Asia Accelerator, a regional cybersecurity and digital literacy initiative funded by USAID and the State Department, and provides technical advisory services for our projects across the globe. From 2015 to 2019, she was the Chief of Party for the USAID-funded Development Innovations project in Cambodia, a project designed as an innovation "lab" to support civil society organizations, social enterprises, and young innovators to design and use of information and communication technology tools to better address local community needs.
Prior to moving to Cambodia, she was based in Uganda from 2010 to 2014 as an independent consultant specializing in program design and development, situational research, and organizational capacity building. While working for diverse clients across East and Southern Africa, she discovered extensive demand for consultants to analyze how systems and structures can help facilitate good development outcomes, and how bureaucracy and activities that preserve the status quo can inhibit growth and innovation.
Previously, she worked for DAI's corporate office providing strategic and management advice to a wide range of post-crisis, civil society support, and community engagement projects, supporting in-country leaders to deliver programs that invested in people and had long-lasting results. Kate served as the Deputy Chief of Party and then Chief of Party for the DAI Small Grants Program in Timor-Leste from 2004 to 2008, supporting and growing civil society, improving private and government service delivery, and building capacity after the country's independence from Indonesia.
M.Sc., cultural anthropology, University of Pennsylvania
Fluent in Spanish and Tetum
x
RELATED CONTENT:
Said Abu Hijleh, DAI Country Director in Palestine, is an executive manager and private enterprise development specialist with more than 30 years of experience building economic resilience and creating market linkages for the West Bank and Gaza.
Read More