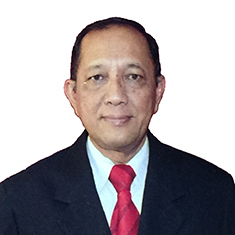 Dr. Emil Agustiono is a medical doctor and clinical epidemiologist with more than 30 years of experience working at the national, provincial, and district levels in Indonesia on pandemic preparedness and response, disaster planning, antimicrobial resistance, food safety, and more.
Throughout his decades-long career with the Government of Indonesia, Emil has built coalitions and fostered coordination across line ministries in health, social welfare, education, agriculture, and local government. He most recently served as Indonesia's Deputy Minister for Health, Population, and Family Planning in the Coordinating Ministry of Human Development and Culture (KEMENKO PMK). In this position, he played a major role in the development of One Health policy in Indonesia, bridging human and animal health sectors, and he continues to serve as a senior consultant to KEMENKO PMK on One Health and pandemic preparedness.
His work has also involved frequent coordination with international organizations, including the World Health Organization, United Nations Children's Fund, Population Fund, International Labor Organization, and World Food Programme. His technical expertise includes epidemiology, surveillance, disaster risk reduction, food security, preparedness, and response to infectious disease and natural disasters, family planning and reproductive health, and One Health policy development.
M.D., University of Diponegoro
M.Sc., clinical epidemiology, University of Indonesia
x
RELATED CONTENT:
Michael Siebert is a management consultant with 20 years of experience in human resource management, service management and planning, organisational development, and information systems.
Read More