Zambia—Scaling Up Nutrition Technical Assistance (Zambia SUN TA)
DAI supports the Government of Zambia to reduce stunting among children under 2 years of age. The first phase of Zambia's Scaling Up Nutrition program launched in 2011 and covered 14 districts; this phase will expand activities to 30 districts covering 7.1 million people, including 850,000 children under age 2 and their mothers.
Zambia SUN TA will layer interventions in nutrition, health, agriculture, and water, sanitation, and hygiene (WASH), building the capacity of Zambian counterparts at all levels to take these interventions forward. The Zambian government is committed to high-impact, nutrition-specific, and nutrition-sensitive interventions. The consortium will collaborate with Zambia's National Food and Nutrition Council (NFNC), ministry representatives, donors, district health workers, and sanitation service providers, among others. DAI's consortium includes TechnoServe, EXP Zambia, Toilet Yanga, and Viamo.
Stunting is impaired growth and development that children experience as a result of poor nutrition, repeated infection, and inadequate psychosocial stimulation. Affecting 40 percent of Zambian children under age 5, stunting can cause poor cognition and educational performance and other harmful lifelong effects. Zambia SUN TA works to ensure that more of Zambia's children grow up healthy, strong, and productive.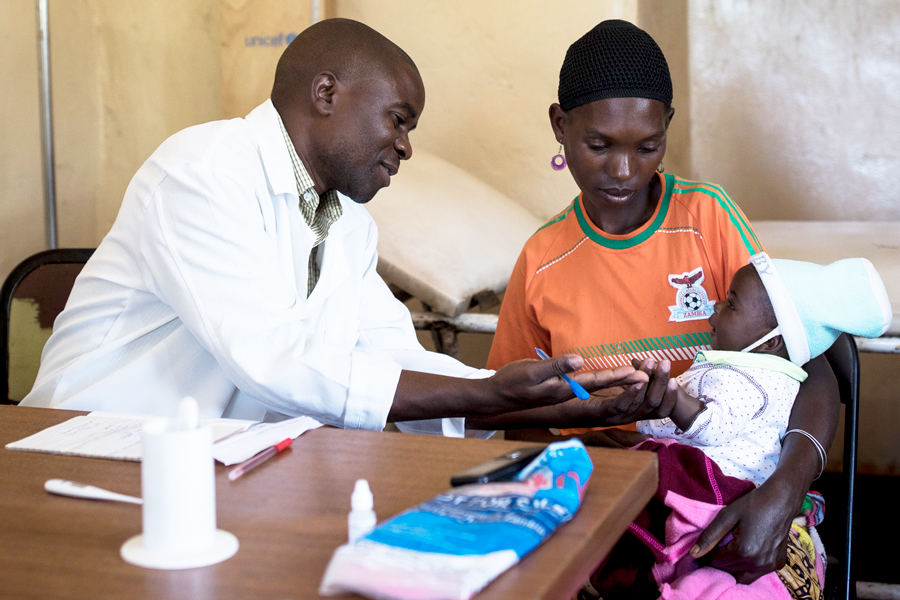 Sample Activities
Provide training and guidance to build the capacity of Zambia's NFNC and line ministries to deliver nutrition-specific and nutrition-sensitive services.
Build capacity of district- and ward-level staff to plan and coordinate demand-driven interventions in nutrition, health, agriculture, and WASH.
Collaborate with partners to assess local barriers and opportunities in areas such as WASH and food value chains, communications and messaging strategies, and uses of digital technology.
Capture knowledge from across districts and develop constituencies for sharing lessons learned and best practices to increase uptake of successes and decrease use of less-effective efforts.
Select Results
Conducted one of the first virtual site visits, using Google Meets, during the COVID-19 pandemic.
Established more than 2,000 community and health facility vegetable gardens across 13 focus districts and trained more than 8,000 community-based volunteers on how to deliver proper food preparation sessions.
Trained 407 health facility staff and 1,490 community-based volunteers on forming and managing nutrition-focused mother support groups.
Trained 379 government staff and volunteers to roll out WASH activities in communities, including the formation of Sanitation Action Groups and Village WASH Committees.
Constructed latrines and handwashing stations for 111 villages in Mansa District and—once they are confirmed open defection-free (ODF)—they will join 122 other villages that have been verified ODF under SUN TA for a total of 233.
Facilitated the official handover of 20 boreholes, translating to a total 10,000 people gaining access to clean, safe water.
Supported the Ministry of Health to train more than 1,500 community volunteers, known as community distributors, to expand family planning service coverage to more rural Zambian communities. The distributors collectively reached more 200,353 people, marking more than a 1,000 percent increase in people reached compared to 2020.
x
RELATED CONTENT:
The Ukraine Governance and Local Accountability (HOVERLA) program is completing the necessary legal framework for decentralization, supporting the operation of newly consolidated communities, improving services delivered to citizens, and advancing citizen engagement at all levels.
Read More