Haiti—Strategic Health Information System Program (HIS)
The Haiti Strategic Health Information System (HIS) Program team consolidated and integrated Haiti's disconnected health information assets—empowering the national System d'Information Sanitaire Nationale Unique (SISNU).
At present, Haiti's digital and paper-based health reporting platforms vary greatly from city to city and village to village. This makes Haiti highly vulnerable from a health security standpoint, especially considering its challenging history of devastating earthquakes, hurricanes, and contagious diseases, including the 2010 cholera outbreak. By creating a single, comprehensive health information system, Haiti will now be better prepared to address its inevitable health crises as well as the daily needs of its 11 million people. This benefits not just Haiti but its donor partners and the entire Caribbean region.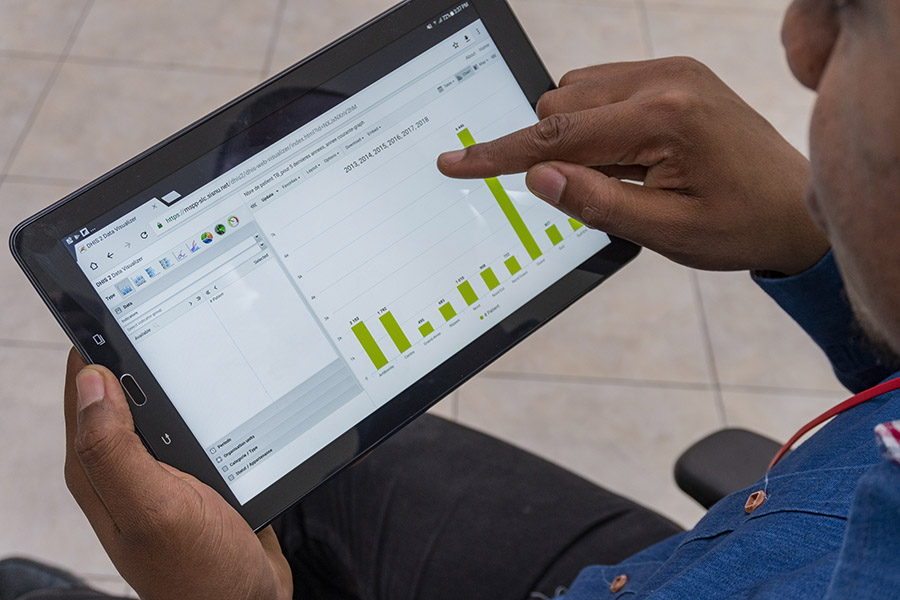 Sample Activities
Enhance departmental coordination for data collection, consolidation, and reporting.
Support SISNU implementation, training, and enhancements, including by setting up a help desk to support users.
Develop SISNU stewardship by supporting Haiti's Ministère de la Santé Publique et de la Population (health ministry) with skills assessment and training, and dashboards, and a web portal that support data analysis and information dissemination.
Increase interoperability between SISNU and stakeholders such as local health providers and clinics.
Engage private sector partners in computer infrastructure and private hospitals.
Establish technical working groups.
Work with the health ministry to update policy and framework for data standardization, exchange, privacy, and security; interoperability of systems; and unique patient identifiers across health systems.
Select Results
Assisted the Government of Haiti to enroll and monitor 37,491 tuberculosis patients less than one year after it launched the country's tuberculosis tracker. As of January 2020, the number enrolled is more than 41,000.
Digitized previously paperbound patient details registered by healthcare providers at local facilities across Haiti.
Created a mobile application to facilitate increased data collection, including from rural locales.
x
RELATED CONTENT:
The Tackling Deadly Diseases in Africa (TDDA) programme worked to save lives and improved global health security by reducing the impact of disease outbreaks, epidemics, and other public health threats across sub-Saharan Africa.
Read More