March 22, 2019
The Haiti government's tuberculosis (TB) tracker marked World Tuberculosis Day with 29,900 patients enrolled and monitored—less than one year after its launch. Haiti's TB tracker digitizes previously paperbound patient details registered by healthcare providers at local facilities across Haiti. The TB and future trackers will improve data quality and inform decision making such as helping the Haitian government decide where to invest in additional clinics and staff.
Development of the TB tracker and related work is being led by the Haiti Strategic Health Information System (HIS) Program. Launched in 2017, HIS is funded by the U.S. Agency for International Development and implemented by DAI in partnership with Haiti's Ministry of Health. Data on TB cases and treatment regimens is captured electronically—and through a mobile application that will better serve remote locales.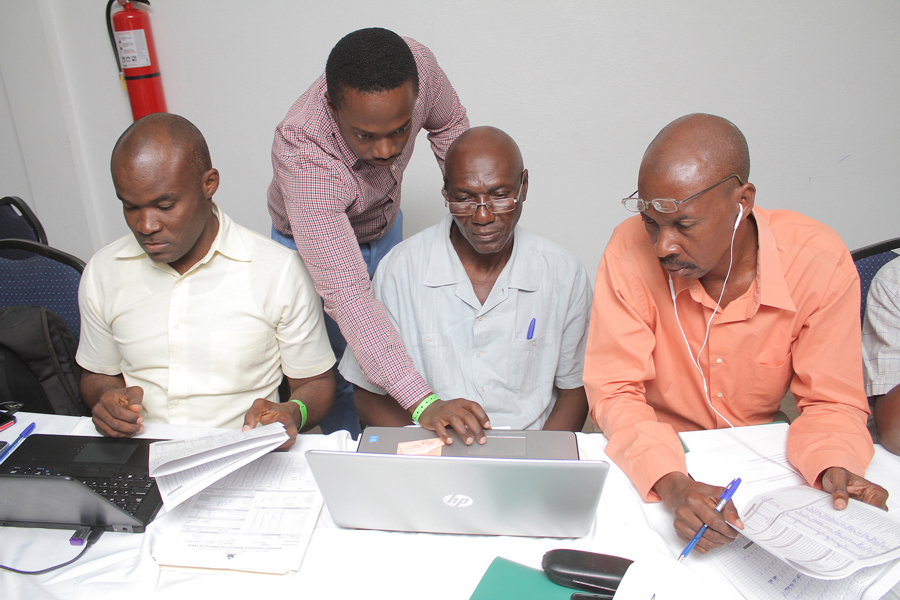 Haiti HIS field officer Pouchy Dacière trains Northeastern Health Directorate representatives to enter data.
By consolidating and integrating Haiti's disconnected health information assets, HIS is empowering the country's national health database—the System d'Information Sanitaire Nationale Unique, which uses the DHIS2 open-source software platform for reporting, analyzing, and disseminating national health data.
"Thanks to the tracker, the government holds information not only on sites receiving TB patients in excess but also on the geographic background of these patients," said DAI's Atwood Raphael, HIS Chief of Party. "This makes it easier for the government to identify health service gaps. The tracker also helps identify data quality problems quickly and hence training needs, prompting the government to respond through capacity building and changes in personnel."
TB is a contagious and often deadly disease plaguing the Caribbean nation—Haiti suffers 140 TB cases per 100,000 residents, or 40 times the rate in the United States. Since its launch, the TB tracker has been updated to trace human contacts made by patients, as well as categorize patients who are resistant to multiple-drug treatment versus those receiving only INH prophylaxis. The tracker also added offline capabilities so users can continue registering information when the internet is down.
"These TB registries previously had to be manually collected and then transported and entered by hand at the department and national levels," Raphael said. "The lack of ongoing collection of reliable health data has harmed the Haitian government's ability to plan for and respond efficiently to public health needs. Launching the TB data platform marks an important step for the country in its goal to become better prepared to respond to both health crises and the daily needs of its 11 million people."