September 01, 2022
The U.S. Agency for International Development-funded Business Egypt project, in partnership with Egypt's Ministry of International Cooperation, recently launched the ClimaTech Run global competition, which invites tech entrepreneurs and digital artists with innovative ideas on climate action to compete for an opportunity to present their work at COP27.
The initiative is part of the country's efforts to combat climate change ahead of the UN Climate Change Conference 2022 (COP27), which Egypt is set to host November 6-18 in Sharm El-Sheikh.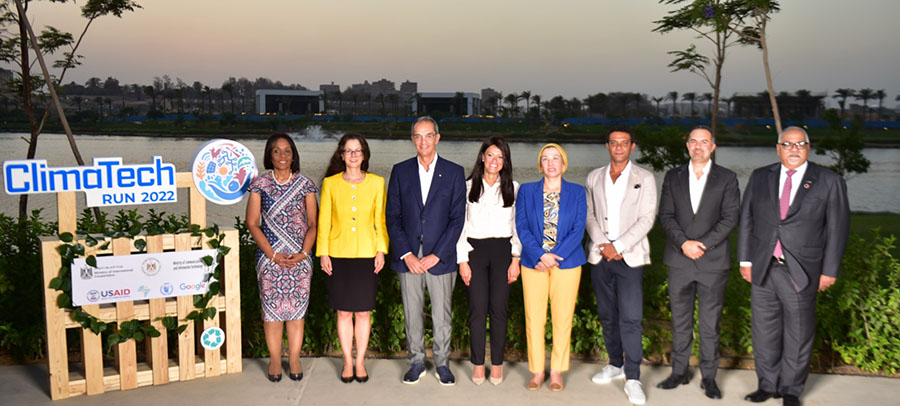 (From left) Kanayo Awani, Executive Vice President of Afreximbank; Nicole Shampaine, Chargé d'Affairs of the U.S. Embassy to Cairo; Amr Talaat, Minister of Communications and Information Technology; Dr. Rania Al-Mashat, the Egyptian Minister of International Cooperation; Dr. Yasmine Fouad, Minister of Environment; Aser Yassin, Egyptian actor; Hisham El-Nazer, Country Director of Google Egypt; and Praveen Agrawal, Representative and Country Director of the World Food Program in Egypt.
The DAI-led Business Egypt team is managing the online platform for the competition, providing virtual space for sharing ideas and designing climate solutions.
At the launch event, U.S. Chargé d'Affaires in Cairo Nicole Shampaine said, "Climate change is a threat that sees no borders. The United States is committed to dealing with the climate crisis and cooperating with our global partners to strengthen our shared climate ambition."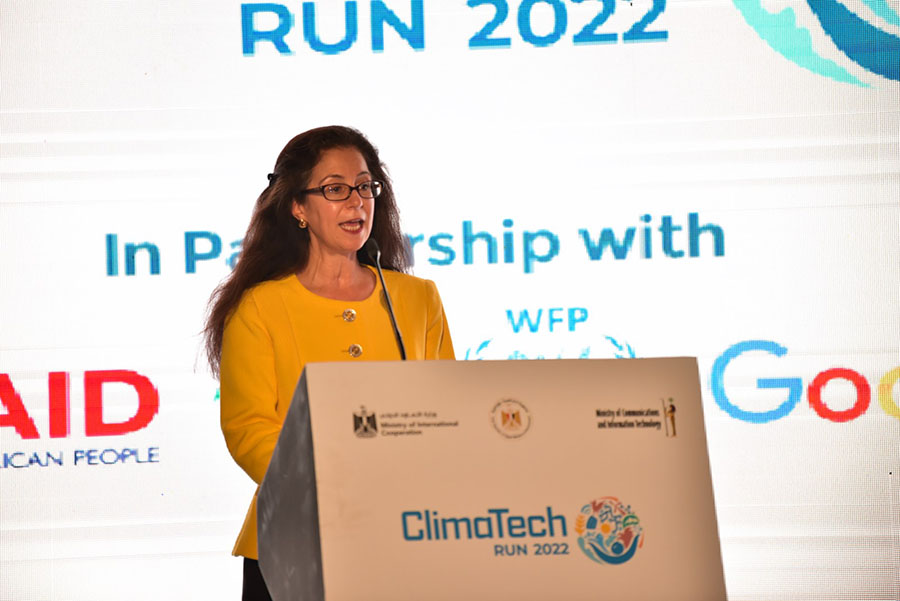 Nicole Shampaine, Chargé d'Affairs of the U.S. Embassy to Cairo.
"There is a role for all of us in climate action," said H.E. Dr. Rania A. Al-Mashat, Minister of International Cooperation. "The youth are especially fundamental in finding new, innovative solutions."
The competition has two complementary tracks: the first for global tech startups (ICT for Climate Action), the second for digital artists (DigitalArt4Climate). Ten shortlisted candidates will compete for a grand prize of $100,000, and there will be a top African startup prize of $50,000. The application window closes September 22. For the DigitalArt4Climate track, a public vote in late September will select those artists who best express the concept of climate action.