March 04, 2019
A DAI-implemented project with the International Finance Corporation (IFC) and Multilateral Investment Guarantee Agency (MIGA) to co-finance a solar energy facility was selected for the 2019 World Bank President's Award for Excellence. The $11.2 million financing package for the PRICO Solar Gaza Project, comprised of a grant through the Finance for Jobs (F4J) program, loan from IFC, and political risk insurance from MIGA, was honored for adopting a collaborative approach and overcoming risks presented by Gaza's legal and operating environment to ensure the project's financial sustainability. Once built, the facility will mark the largest solar array in the West Bank and Gaza and first privately financed infrastructure project in a decade in Gaza.
Solar-generated electricity produced by PRICO will power 32 factories and warehouses that comprise the Gaza Industrial Estate, which—like most of the West Bank and Gaza—relies heavily on Israeli imports to meet electricity needs. Chronic electricity shortages have caused Gaza factories to shut down operations, scale back output, or incur substantial additional expenses in operating private generators. Electricity generated by PRICO is projected to supply 80 percent of the power to the 50-hectare industrial park, enabling expanded production and the creation of approximately 800 new jobs in food, wood, metals, and other business sectors operating in the park.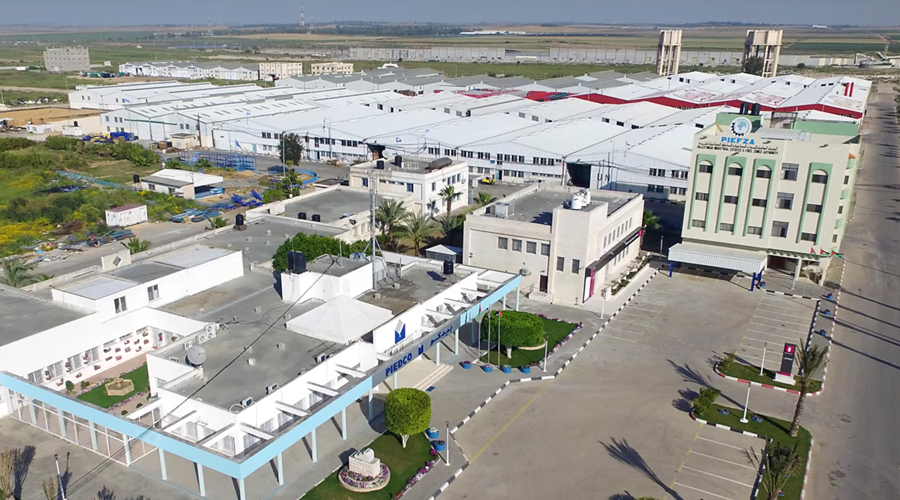 The Gaza Industrial Estate will soon be powered by Palestine's largest solar array. Photo: International Finance Corporation
The project's equity contribution for the 7-megawatt, 57,000-square-meter rooftop photovoltaic system was provided by the Palestine Development and Investment Company, the majority owner of PRICO. The co-financing grant, loans, and guarantees were extended by the World Bank Group (including IFC, MIGA, and International Bank for Reconstruction and Development).
DAI implements F4J for the Palestinian Authority's Ministry of Finance and Planning (MOFP). Under F4J, DAI conducted the financing due diligence on PRICO—including on its implementation capacity, procurement processes, and financial system—in accordance with the World Bank's Maximizing Finance for Development approach of leveraging private sector funding and optimizing the use of scarce public resources. Additionally, the F4J team:
Prepared the case for public financing, including an assessment of market failures and rational for funding, and social-, economic-, and cost-benefit analyses by measuring the economic and social rates of return for the first time ever in the West Bank and Gaza Strip;
Updated the labor survey at the Gaza Industrial Estate; and
Prepared the investment proposal and $2 million equity grant for the investor.
F4J will monitor the project implementation, including procurement compliance, technical oversight, financial audits, and environmental impact monitoring, and report to the MOFP and World Bank. F4J will also monitor and report on the impact on employment. The PRICO solar project has mobilized with completion expected by the end of year.
F4J is a four-year series of projects to mobilize private investment in high potential sectors and generate job opportunities across the West Bank and Gaza. Led by Project Manager Mazen Asad, the F4J team designs, tests, and implements three innovative financial instruments in Palestine:
Entrepreneurship Ecosystem Matching Grant (EE-MG): This cost-sharing mechanism targets early stage investment funds seeking to build a portfolio of startup and early stage enterprises. So far, the EE-MG has helped mobilize private capital of $2,780,000 by supporting 13 Palestinian startups, creating 80 jobs.
Investment Co-Financing Facility (ICF): This risk-sharing grant mechanism provides commercially sound, job-creating, private sector investments that may otherwise not be considered viable due to market and institutional failures. The PRICO Gaza Solar Project is the first ICF project, and five shortlisted projects similar in size are now being assessed.
Development Impact Bond (DIB): This marks the first World Bank DIB to be implemented worldwide. The bond will catalyze the role of the private sector by crowding in both private sector capital and expertise to better incentivize employment outcomes. The bond is designed and currently mobilized with $1.8 million in capital from international and local investors. It will address unemployment through skills development of 2,000 graduates to improve their employability. The DIB's first cycle will target nursing employment, supporting hospitals seeking to improve care quality standards. The bond will also target health and safety inspectors in construction and industrial sectors. It is expected to be launched this spring or early summer.