February 23, 2022
The U.S. Agency for International Development (USAID) has launched a $2.5 million Innovation Challenge Fund in Vietnam called "Tomorrow's Energy Creators," designed to catalyze solutions to urban energy challenges. U.S. Climate Envoy John Kerry, U.S. Ambassador Marc Knapper, and others attended the launch event where the first five awardees were announced.
"We're in a race against time to avoid the worst consequences of the climate crisis," Kerry said. "It's a pleasure to engage here in Vietnam with such promising young entrepreneurs and to witness their vision to accelerate the clean energy transition. They are an inspiring reflection of the real potential across Vietnam."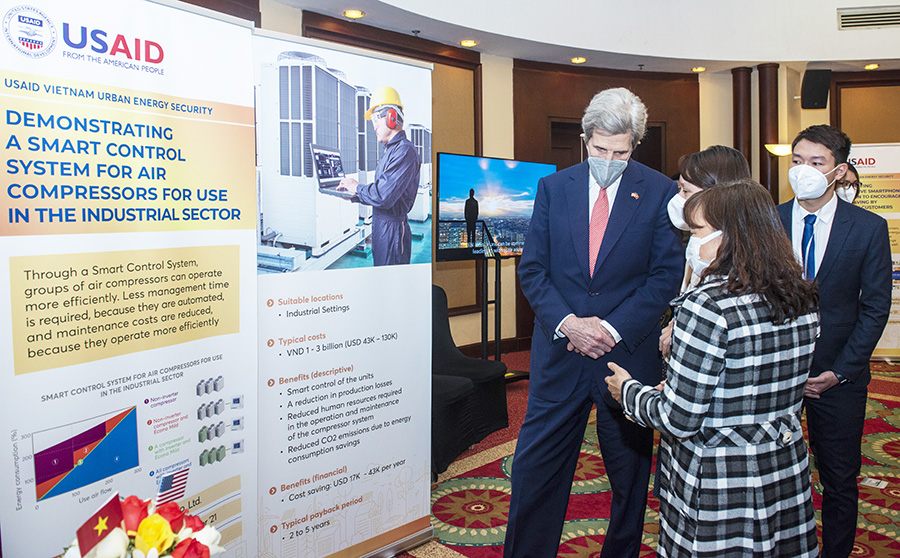 U.S. Special Presidential Envoy for Climate John Kerry visits an exhibition of the first five awardees' energy innovations under USAID's Innovation Challenge Fund. Photo: USAID Vietnam Urban Energy Security Project.
The Innovation Challenge Fund—managed by the DAI-led Vietnam Urban Energy Security project—provides awards up to $100,000 to organizations with promising new products, business models, or financing models for advanced, distributed urban energy systems in Danang or Ho Chi Minh cities. Successful pilots and demonstrations may receive further support to scale and become commercially viable.
"Reducing emissions from the energy sector is critical for Vietnam to reach its net-zero goals," said USAID Vietnam Mission Director Ann Marie Yastishock. "A key part of our partnership with Vietnam is to catalyze and expand the market potential for innovative solutions to urban energy and environmental issues."
The first round of awards under the fund will support technologies or practices covering transportation, building efficiency, electricity generation, electricity delivery and management, and water efficiency. The five first awardees are:
The School of Electrical Engineering at Hanoi University of Science and Technology, to pilot eco-power meters for use in the commercial and industrial sector
Energy Saving Solutions Vietnam, for its cooling storage system technology for use in the commercial and industrial sector
TAM Consultancy Co. Ltd. to pilot a smart control system for air compressors for use in the industrial sector
VietnamNet ICOM Media, for a smartphone application to encourage energy savings by electricity customers
Allotrope Partners to pilot a battery energy storage system in the commercial and industrial sector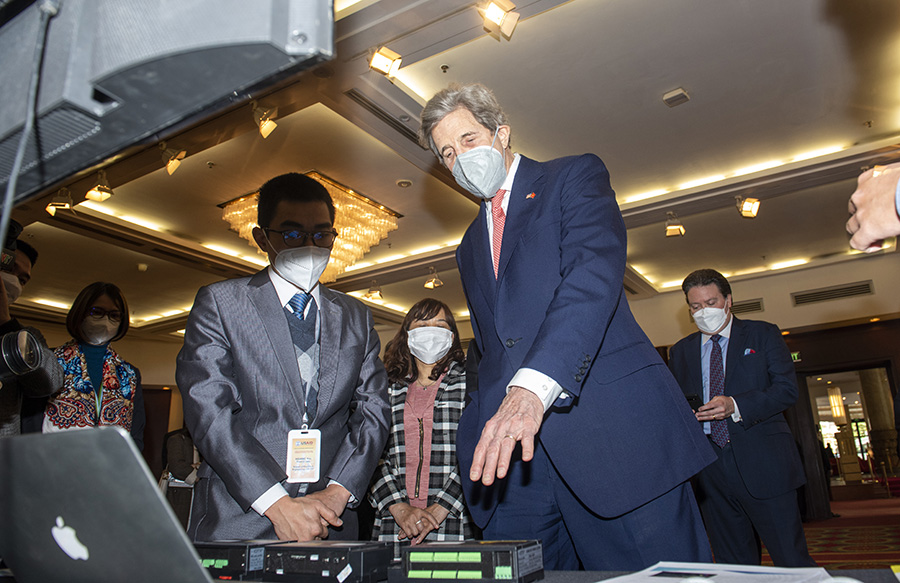 Kerry listens as one of the first five awardees explains his innovation. Photo: USAID Vietnam Urban Energy Security Project.
In addition to managing the fund, the Vietnam Urban Energy Security Project supports USAID investments in Vietnam's energy sector by driving engagement down to the city level, complementing existing programming such as the Vietnam Low Emission Energy Program. The project promotes the deployment of 400 megawatts of advanced and distributed energy solutions in urban centers, ranging from solar panels and storage batteries to energy-efficient vehicles.