DAI's Joe Abah Speaks on the Nigeria 2023 Elections at EUSDGN Project Event
October 11, 2022
The European Union Support to Democratic Governance in Nigeria project recently closed out its first phase and hosted a launch of its second phase, which runs through 2027. The event was both a discussion of the project's initial accomplishments and an opportunity to share plans for its next stage.
The project works to facilitate peaceful and fair electoral processes and advancements in Nigeria's economic development. DAI implements component one of the programme—providing support to the Independent National Electoral Commission (INEC)—focused on enhancing the credibility of elections and boosting citizen participation across the country.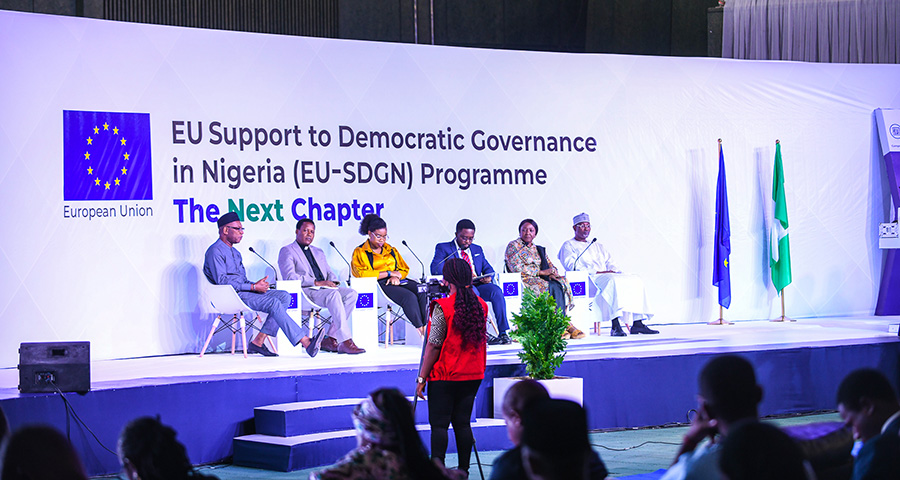 DAI Country Director in Nigeria Dr. Joe Abah joined a panel at the event to discuss the challenges and opportunities presented to those charged with organizing for a credible 2023 General Election in Nigeria. Speaking about what the country needs to adequately prepare for 2023, Abah pointed out that elections in Nigeria are usually an all-out battle. He urged that the country focus on practical, deliberate actions—such as setting up more polling units and ensuring effective logistics management. Creating a smoother process, he said, will encourage more young people to participate.
Professor Attahiru Jega, Former Honorable Chairman of the INEC, who was also part of the panel, said that "having credible elections is the primary responsibility of INEC, but not the responsibility of INEC alone; it is the joint responsibility of all stakeholders." He encouraged participants to exercise their civic duties by demanding free and fair elections.