November 16, 2018
DAI is delighted to announce this year's winners of the David H. Gunning Award for Community Service: Sajina Thapa, a Human Resources Officer on the Paani program in Nepal, and Modeline Acréus, an Infrastructure Program Coordinator for the AVANSE program in Haiti.
Sajina and Modeline will each receive $5,000 for donation to the social service organization of her choice.
Sajina Thapa has volunteered with the Nepal Healthcare Equipment Development Foundation (NHEDF) since 2015. NHEDF was started by a group of hospital engineers, doctors, nurses, and social workers in 2014 to provide medical devices free of cost to poor patients. But in April 2015, Nepal was hit by an earthquake that killed almost 9,000 people and injured 22,000 more. NHEDF responded by setting up a 20-bed medical facility for those needing shelter, food, nursing care, and psychological support—helping 500 critically injured people.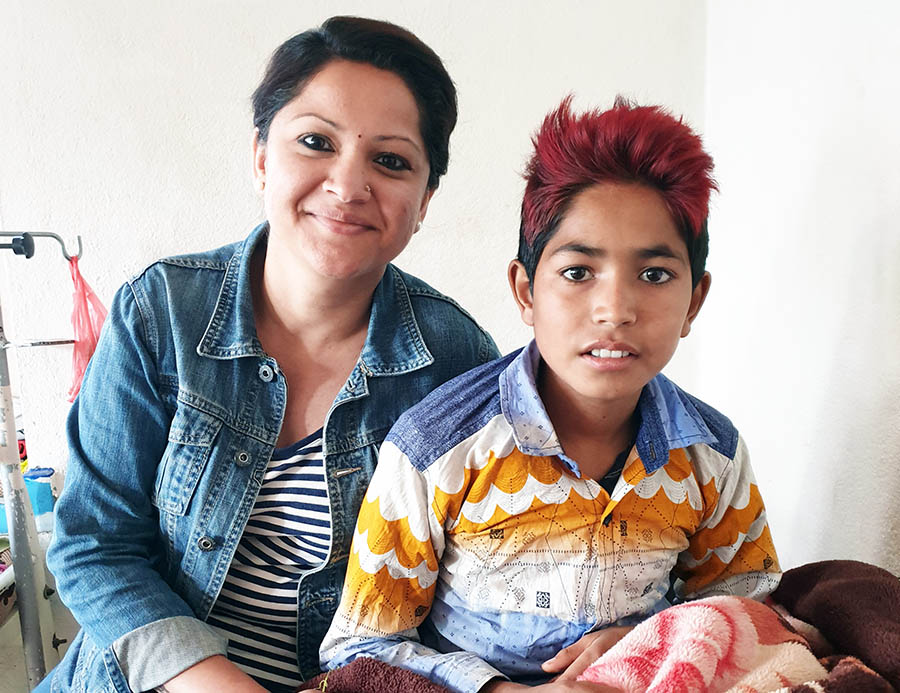 Sajina has been working with the NHEDF since 2015.
Today, the organization exists to provide nursing care, physiotherapy, and rehab for poor people who cannot afford such services. Sajina manages the daily food supplies required to feed around 50 residents of the Kathmandu facility. "I am honored to be part of this noble organization," she said, "and happy that my small contribution is helping hundreds of people to continue their treatment."
Modeline Acréus is a member of the New Vibration Foundation, an organization founded in 2015 to provide food and education support for children in northern Haiti whose parents can't afford to send them to school or feed them sufficiently. Modeline contributes financially and helps to recruit children whose parents lack the means to fund the education they need. Every year, the Foundation delivers school supplies to 60 kids, distributes food—rice, beans, and oil—to their families, and pays the annual tuition for five students who achieve the highest grade over the school year. The members meet the children every three months to talk to them, mentor them, and eat together.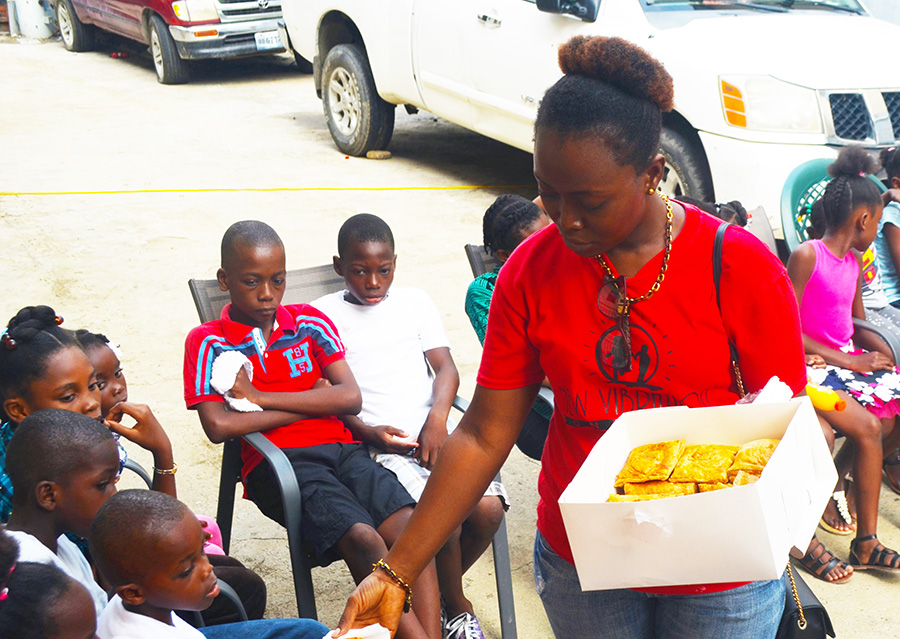 Modeline sharing a meal.
"If the prize is awarded to New Vibration Foundation, we will have the opportunity to pay tuition for more children and the food support which is very low can be reinforced," wrote Modeline in her application.
The Gunning Award was created in 2013 to honor retiring DAI Board Director David Gunning, who was a continuous presence on DAI's Board from its inception in 1970 and a steady advocate of the company's social mission. This year, the service award attracted 23 applications from the United States and 10 other countries—Afghanistan, El Salvador, Haiti, Kazakhstan, Kenya, Kosovo, Nepal, Pakistan, Somalia, and Uganda—bringing the total number of applications since the awards were inaugurated to an even 100.
"As always, I am very impressed with the good work being done by DAI people as volunteers," said Gunning. "It is a pleasure to see these good works recognized and, hopefully, encouraging others to undertake their own projects."