September 21, 2018
DAI Board Member Maria Otero and her husband Joe Eldridge were honored this week by the Washington Office on Latin America (WOLA) for their vital contributions to human rights advocacy.
Otero has championed the cause of human rights, gender equality, and inclusive economic growth worldwide through her work with Accion International, the U.S. Agency for International Development (USAID), and as the State Department's first Under Secretary for Civilian Security, Democracy, and Human Rights. She has been on DAI's Board since 2013.
Eldridge led WOLA, a research and advocacy organization advancing human rights in the Americas, through its early years as Executive Director, and has spent more than 30 years working as a leading advocate and educator on international human rights and humanitarian issues.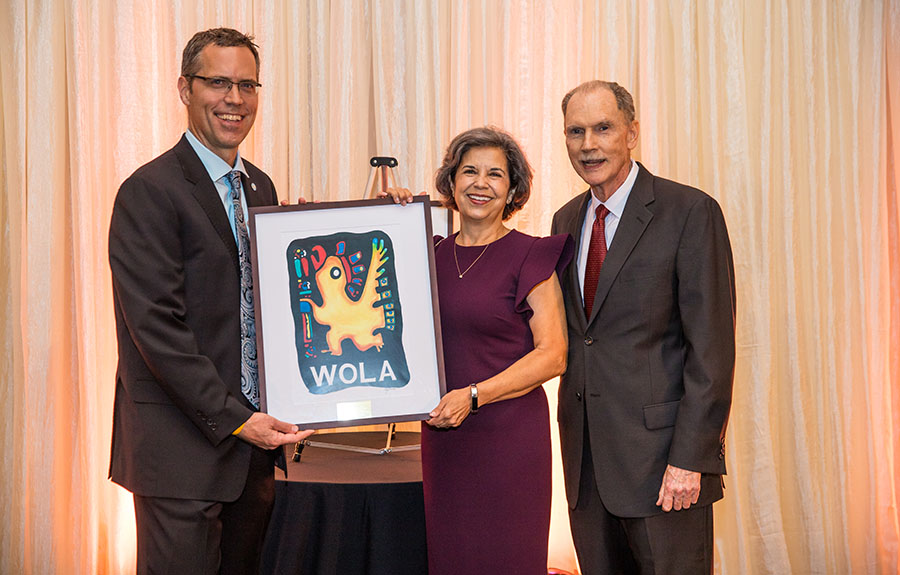 WOLA President Matt Clausen, from left, presents Maria Otero and Joe Eldridge with the award.
"Joe and Maria have been some of the most important architects of the human rights movement worldwide. Through their tireless work in defense of the most vulnerable among us, they not only developed innovative ways of using advocacy to defend basic rights, but also inspired generations of advocates to follow their example," said WOLA President Matt Clausen. "At a moment when threats to human rights are increasing throughout the hemisphere, Joe and Maria's leadership and achievements remain a guiding light for advocates everywhere."
Every year, WOLA honors organizations or individuals who have promoted human rights, democracy, and justice in Latin America. Awardees are organizations or individuals who exemplify a commitment to WOLA's vision for the future, where human rights and social justice are the foundation for public policy.
WOLA's 2018 Human Rights Awards and Benefit Gala took place September 20 in Washington, D.C. Previous honorees include U.S. Congressman James P. McGovern (2007), former president of Chile Michelle Bachelet (2010), actor Gael García Bernal (2011), investigative journalism organization El Faro (2012), Mexican journalist Marcela Turati (2014), and Casa Alianza de Honduras (2016).