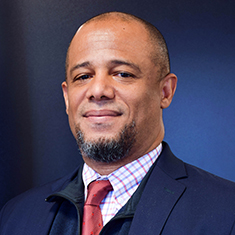 James Watson oversees all projects implemented by the U.S. Government Business Unit, DAI's largest operating division. As Vice President, he is responsible for ensuring operational excellence and delivering superior development results globally.
James came to DAI after a distinguished 32-year career with the U.S. Agency for International Development (USAID). Immediately before joining the firm, he served as USAID's Development Diplomat in Residence, based at Morehouse College in Atlanta, Georgia, from where he represented USAID across six southern states.
James spent most of his USAID career overseas, assuming increasingly responsible long-term postings in Eastern Europe, the Caucasus, East and Southern Africa, and the Caribbean. In his last major overseas role, as USAID Mission Director in Honduras from 2012 to 2017, he led a team of more than 100 staff and a program portfolio exceeding $500 million.
At a time of enormous economic and social challenges for Northern Triangle countries, James's team produced a new five-year Country Development and Cooperation Strategy for Honduras and generated a number of important achievements, including pioneering secondary violence prevention and the Agency's Place-Based Strategy approach, both of which contributed to Honduras cutting its homicide rate in half over the course of his tenure.
James began his USAID career in 1989 in Washington, D.C., serving during the 1990s as the Romania and Türkiye Desk Officer, as Deputy Chief of the Civil Society Division, and as USAID's Liaison to the State Department on Kosovo. He is the recipient of numerous meritorious service awards, including the Superior Honor Award for his work on the Haiti earthquake response in 2010.
B.A., international relations, University of Virginia
x
RELATED CONTENT:
Polly Gillingam joined DAI in 2000 and has 25 years of experience in the international development sector.
Read More