April 27, 2021
DAI is pleased to welcome to the firm James E. Watson II, an accomplished executive who as Vice President for U.S. Government Programs will oversee a project portfolio encompassing 89 long-term initiatives in almost 50 countries. Watson comes to DAI after a distinguished 32-year career with the U.S. Agency for International Development (USAID).
"I'm absolutely delighted to join the DAI team," said Watson. "I have long admired the values that animate DAI's development professionals and I'm looking forward to learning from them and to sharing what I have learned from my 30-plus years in this field. Together, I think we can raise the bar still higher in terms of delivering development results around the world."
Watson most recently served as USAID's Development Diplomat in Residence, based at Morehouse College in Atlanta, Georgia, from where he represented USAID across six southern states—fostering partnerships, advising on the internationalization of campuses, guiding students and faculty on international development and international opportunities, and recruiting for service with USAID. At the very end of his time at USAID, he served as the Agency's interim Diversity, Equity & Inclusion (DEI) Coordinator, in which role he developed an options paper for the incoming Administrator on the creation of a DEI Secretariat and permanent DEI Coordinator.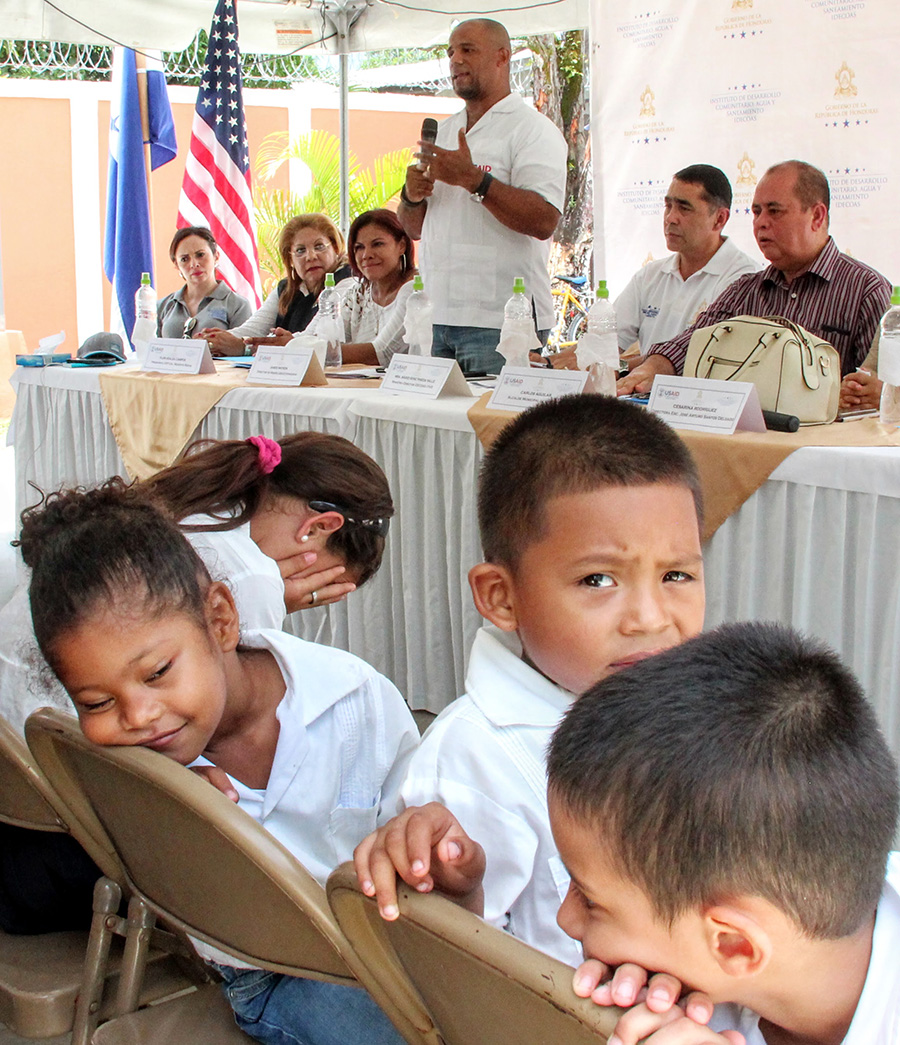 Watson speaks to stakeholders in Honduras.
Previously, Watson spent most of his career overseas, assuming increasingly responsible long-term postings in Eastern Europe, the Caucasus, East and Southern Africa, and the Caribbean. In his most recent overseas role, as USAID Mission Director in Honduras from 2012 to 2017, he led a team of more than 100 staff and a program portfolio exceeding $500 million.
At a time of enormous economic and social challenges for Northern Triangle countries, Watson's team produced a new five-year Country Development and Cooperation Strategy for Honduras and generated a number of important achievements, including pioneering secondary violence prevention and the Agency's Place-Based Strategy approach, both of which contributed to Honduras cutting its homicide rate in half over the course of his tenure.
"I served under James when he was the Program Officer at USAID/Mozambique, and he was quite simply one of the best development professionals I have ever worked with," said Tine Knott, Senior Vice President for DAI's U.S. Government Business Unit. "James is immensely knowledgeable, strategically astute, knows how to relate to people at all levels of an organization, and inspires confidence through the example of his good judgment. DAI will be a better organization for his leadership and commitment to achieving the best possible development outcomes in all of our work."
Watson is the recipient of numerous meritorious service awards, including the Superior Honor Award for his work on the Haiti earthquake response in 2010.