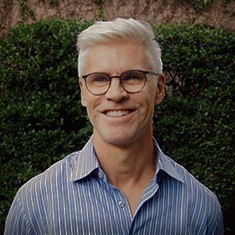 Till Bruett has 30 years of experience in the financial sector including commercial banking, small firm microfinance, digital finance and solutions, and financial sector policy. He joined DAI in 2019 but was no stranger to the company. He co-founded Alternative Credit Technologies in 2000, a consulting company specializing in building inclusive financial systems that regularly worked with DAI in the 2000s on its flagship financial sector projects in Latin America, Africa, and Central and Eastern Europe. Till leads DAI's Finance, Investment, and Trade practice, which provides technical support to projects and manages new business efforts.
"The pace of technological change is having a profound impact on how societies and economies function, and the financial sector is no exception. Digital is changing how finance is done and who does it. So much is in flux in finance and there is much untapped potential for development if we can distinguish that which is helpful or hopeful from the hype."—Till Bruett
Till started and led the digital finance work at the United Nations Capital Development Fund (UNCDF) from 2008 to 2018. He launched its inclusive finance activities in the Pacific region where he designed and managed the Pacific Financial Inclusion Programme which grew to $18 million under his leadership. In 2012, he opened UNCDF's office in Brussels, Belgium, where he designed, started, and managed the Mobile Money for the Poor programme. In 2018, he was tapped to be the Secretariat Director for the United Nations Secretary-General's Task Force on the Digital Financing of the Sustainable Development Goals (SDGs), where he launched, guided, and managed a group of 17 CEOs, central bank governors and ministers, thought leaders, and UN agency heads.
Till was a banker in the early 1990s, working as a credit analyst and client manager with Chemical Bank's international division in New York. In 1996 he crossed over to development when he joined FINCA International helping to set up and fund microfinance institutions globally. While running Alternative Credit Technologies from 2000 to 2008, Till taught regularly at Georgetown University and was an adjunct professor at Johns Hopkins School of Advanced International Studies (SAIS).
B.A., political science, Duke University
M.A., international economics and European studies, SAIS
x
RELATED CONTENT:
Said Abu Hijleh, DAI Country Director in Palestine, is an executive manager and private enterprise development specialist with more than 30 years of experience building economic resilience and creating market linkages for the West Bank and Gaza.
Read More