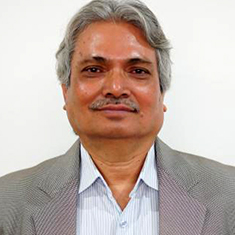 Dr. Nitish C. Debnath served in the Department of Livestock Services, Bangladesh, in different positions between 1979 and 1986. In late 1986, he joined the Bangladesh Livestock Research Institute and continued research in the field of animal virology and epidemiology until November 1996.
In November 1996, he joined the newly established Chittagong Government Veterinary College (CGVC) and occupied the position of Principal and Dean. He led the transformation of CGVC to Chittagong Veterinary and Animal Sciences University (CVASU) and was appointed as the founding Vice Chancellor in 2006. In November 2010, he returned to the Department of Microbiology at CVASU as Professor. In July 2011, Nitish joined the FAO Emergency Center for Transboundary Animal Diseases as the Senior Technical Advisor for One Health and Veterinary Education. He pioneered the One Health movement in Bangladesh in 2007 jointly with veterinarians, physicians, and environmental scientists, and launched a new professional organization called One Health Bangladesh. He has been chairing One Health Bangladesh since its foundation and has led 10 One Health conferences. He has been involved with U.K. Government-funded BALZAC project and subsequently got involved with One Health Poultry Hub project.
Nitish is also a core member of the Board of Directors for the Council on International Veterinary Medical Education for Asia; president of Bangladesh Veterinary Council; president of the professional organization Agriculturist (Krishibid) Institution Bangladesh; and an Associate Fellow of Chatham House Global Health.
In 2021, Nitish was invited to become one of 26 global experts selected to serve on the One Health High Level Expert Panel convened to advise leading global health agencies on the development of a plan to avert disease outbreaks with the potential to trigger pandemics.
Doctorate, veterinary medicine, Bangladesh Agricultural University
M.Sc., veterinary medicine, Bangladesh Agricultural University
M.Sc., tropical veterinary medicine, University of Edinburgh
Doctorate, virology, University of Surrey (postdoctoral training in Japan)
Member, One Health High Level Expert Panel
x
RELATED CONTENT:
Stephen Rahaim is a health system, private sector engagement, and social innovation specialist with 20 years of experience working to strengthen health systems in emerging and developing markets.
Read More