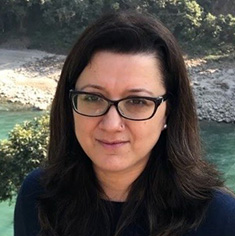 Nilu Puri Basnyat is an experienced program manager and technical specialist for governance and environmental water projects in Nepal. Nilu joined the Paani program as its Deputy Chief of Party in 2016 and was promoted to the Chief of Party position in November 2018. She has 24 years of experience in the development sector of which 18 years are on various projects in Nepal, funded by the U.S. Agency for International Development (USAID). Her USAID work experience includes the following projects: supporting the management of Nepal's ability to manage water resources for multiple uses and users through climate change adaptation and the conservation of freshwater biodiversity; supporting the Election Commission of Nepal to enhance its legal framework, organizational capacity, effective planning and conduct of elections, and delivery of voter education; advancing peace and democracy in priority conflict-prone areas in Nepal; and creating an enabling environment for increasing private sector investments in hydropower development in Nepal.
Nilu previously worked on various short-term assignments with the United Nations Development Programme, World Bank, and WaterAid on environmental and water resources management projects in Nepal. From 1998 to 2002, Nilu worked as an environmental engineer on watershed management, overseeing storm and sewer management projects.
Her core areas of expertise include project operations and management, management information systems, governance, and water resources management. She has developed and maintained close partnerships with project stakeholders, nongovernmental groups, government agencies, civil society counterparts, private sector, academic institutions, USAID, and other donors. Throughout her career, she has incorporated capacity building, knowledge generation and dissemination, social inclusion, and gender into development programs.
B.A., biological resources engineering, University of Maryland
M.A., management information systems, University of Maryland
x
RELATED CONTENT:
Peter Ross has been a permanent member of staff for 25 years. A member of the project management team, he is responsible for planning and managing our current long-term UKaid programmes in Malawi, Nigeria, and Zambia.
Read More