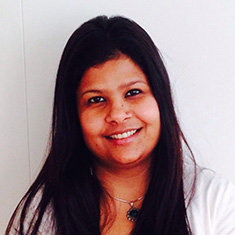 Kongkona Sarma is an economist with more than 15 years of experience working primarily in areas of investment facilitation, business environment reform, and monitoring and evaluation. She started her career in the capital markets, gaining skills in financial valuation, corporate restructuring, and quantitative research. Drawing on her experience from the financial sector, Kongkona has specialized in private sector engagement with a focus on market systems and value chain analysis, programme impact evaluation, economic and financial appraisal, and developing results measurement framework. She has worked in economic appraisal of donor-aided programmes and conducted market assessments in various sectors.
Kongkona has undertaken assignments for various bilateral and multilateral organizations including the Foreign, Commonwealth & Development Office (FCDO), Inter-American Development Bank, World Bank and Commonwealth Secretariat in Afghanistan, Barbados, Bhutan, Guyana, India, Myanmar, Nepal, Ethiopia, Kenya, Nigeria, India, St. Helena, St. Lucia, Trinidad and Tobago, and Uganda. She is also an avid traveller and is involved in promoting pro-poor tourism efforts, advising responsible tourism organisations in the northeastern region of India and Bhutan.
Master of Public Administration, Maxwell School of Citizenship, Syracuse University
Master of Economics, Jawaharlal Nehru University, India
x
RELATED CONTENT:
Katja Silva-Leander is a Director at DAI, specializing in development finance and investment, with 20 years of experience working in the financial services and international development fields.
Read More