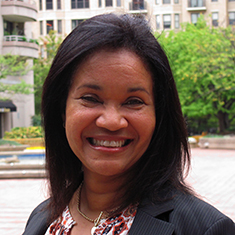 Joy White is an international management specialist with more than 20 years of experience in international development, information technology systems, and foreign policy.
Before taking over the leadership of DAI's employee ownership plan, Joy served as a director in the Strategy team and prior to that was head of the Office of Recruitment, leading a team of 25 international recruiters to identify and place candidates on projects in 70 countries. She developed strategic plans for attracting the best talent in global labor markets and implemented systems that enable recruitment staff to meet hiring needs.
Prior to her appointment as Director of Recruitment, Joy served for five years on DAI's Economic Growth team, leading a staff of 15 professionals and managing a project portfolio of $50 million. She designed and implemented staff development training programs, and introduced standardized business processes including project reviews, skills inventories, organizational structures, staffing patterns, and other corporate improvement initiatives.
Before joining DAI, Joy spent four years as a consultant and team leader at Andersen Consulting (later Accenture). She also served as a financial analyst with the U.S. Department of Treasury, as an International Trade Analyst with the U.S. Department of Commerce, and as a Foreign Service Officer in Italy for four years. She speaks five languages.
M.B.A., George Washington University
B.S., foreign service, Georgetown University
x
RELATED CONTENT:
Mark McCord has more than 36 years of experience in competitiveness, economic growth, and organizational development, including 21 years as a Chief of Party or Project Director for donor-led programs.
Read More