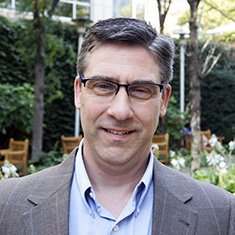 Inspired by his grandfather who worked at the Food and Agriculture Organization (FAO), John Yates was determined to pursue a career in international development since college. An opportunity to travel to Italy on a study abroad program cemented his enthusiasm for international adventures and encouraged him to study in the United Kingdom. However, unlike his grandfather's passion for agriculture, his passion is for the riveting subjects of macroeconomics, tax and fiscal policy, and international trade. He also branched out and developed his skills in computer science and systems design. This started with taking on divisional technical support duties, while he was working at the World Bank, and led to several opportunities working on USAID projects where he combined his economics and computer backgrounds. His last role before joining DAI was as the Chief Information Officer at Chemonics International.
Wanting to get back to the technical work that inspired him, John worked on public finance projects in Armenia, Bosnia-Herzegovina, Egypt, Georgia, and Serbia. He is most proud of USAID's Enabling Labor Mobility project that reformed the collection of contributions for Bosnia and Herzegovina's social insurance system, including the pension, health and unemployment funds.
John now leads DAI's Global Practice for Public Financial Management covering the technical areas of macroeconomic policy, domestic resource mobilization, budget planning and execution, tax and customs administration, central banking, trade and investment policy, and the business enabling environment.
M.A., international economic management, University of Birmingham, United Kingdom
M.S., computer systems management, University of Maryland University College
B.A., economics, Indiana University
x
RELATED CONTENT:
After graduating from Georgetown University's McDonough Business School, Jim Winkler accepted a two-year assignment in Costa Rica as a small business advisor with the Peace Corps rather than the well-heeled path of Wall Street and corporate America that most of his classmates followed.
Read More