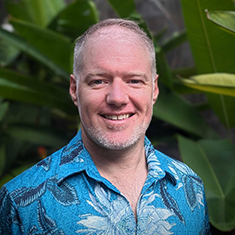 Jeremy Keeton is an environmental and water resources management professional with 19 years of experience—including 10 years in developing countries in Africa, Asia, and South America. He currently serves as Deputy Chief of Party on the Indonesia Integrated Urban Water Sanitation and Hygiene (IUWASH Tangguh) program. His technical experience includes work in climate change, water, sanitation, hygiene, disaster risk management, environmental economics and policy, biodiversity, conservation finance, and natural resource management. He also has a background in environmental program monitoring and evaluation, knowledge management, and statistics.
M.P.A, environmental management, University of Washington
B.B.A., computer information systems, Stephen F. Austin State University
x
RELATED CONTENT:
Darren Saywell has 25 years of experience in practice, research, and policy development in water security, sanitation, and hygiene (WSSH), with a particular focus on solutions in urban environments.
Read More