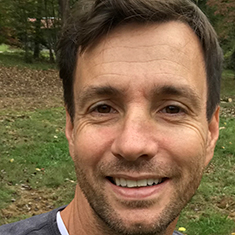 Brian Kiger brings 17 years of experience residing in diverse and economically under-developed communities—working with local and international private and public sector stakeholders in the agriculture, water, sanitation, and hygiene sectors to improve available services and products. Most of his work has involved assessing and working with stakeholders (public and private) to improve local and regional supply chains of products and services to and from rural communities.
Brian is passionate about advising and leading teams to use locally available resources productively and efficiently within socially responsible, inclusive business enterprises to reach rural, peri-urban, and urban customers with products and services. His work focuses on reducing market inefficiencies in the Asian and Sub-Saharan African markets.
M.S., applied economics and Community Development, Illinois State University
M.A., trans-Atlantic relationships, University of Bath
B.A., romance languages, University of North Carolina at Chapel Hill
Returned Peace Corps Volunteers, Kyrgyzstan
AmeriCorps Vista Alum
x
RELATED CONTENT:
Shannon Sarbo is Deputy Chief of Party for the Policy Leadership, Interactions, Networks, and Knowledge (LINK) project, driving efforts to transform agricultural policy systems worldwide.
Read More