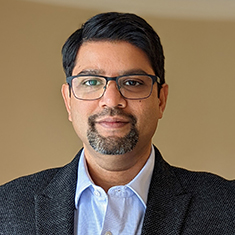 Bikram Ghosh has more than 18 years of experience managing and implementing development projects for multiple donors and multilateral agencies. Bikram's experience includes a blend of practice management, project leadership, and business development including home office management, technical oversight, and field implementation roles. In his previous position, Bikram led a large portfolio of donor-funded programs across governance, economic growth, and environment sectors. He has also served as the Chief of Party and Team Leader for multiple programs. Bikram's technical expertise includes municipal governance and finance, public administration reform, service delivery improvement, and climate finance. As part of the Adapt Asia-Pacific project, he supported national and local governments across 27 countries to develop and finance climate change adaption projects that accessed more than $225 million in climate financing. Previously he led a capacity building program for municipal officials in Central Asia to improve strategic planning and budgeting to provide basic services including water supply, sanitation, and solid waste management. Bikram's geographic experience includes programs in South and Southeast Asia, Central Asia, the Middle East, Latin America, and the Caribbean.
M.A., government administration, University of Pennsylvania
Certificate, public finance, University of Pennsylvania
B.A., urban planning, School of Planning and Architecture, New Delhi
x
RELATED CONTENT:
As Director of DAI's governance practice in the United Kingdom, Christina Frey provides technical and managerial expertise and leadership across DAI's portfolio of governance programmes with the U.K. Foreign, Commonwealth & Development Office (FCDO).
Read More