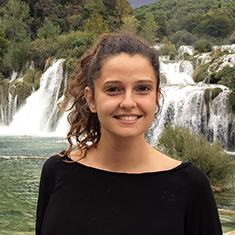 Ever since her first economics course in high school, Audra Killian has loved learning about how the world works. This fascination has led her to international economic development, and more recently to public financial management (PFM). Audra began her career in development as a microfinance intern in Gulu, Uganda, where she supported female entrepreneurs through the disbursement of micro-loans. She later served as a Youth Development Volunteer in the Peace Corps in Morocco for two years, where she ran a dar chebab (youth center), advised a local women's nongovernmental group, implemented two grants, and supported a rugmaking cooperative. During her service, she worked with the local government and saw how the proper management of public resources is key to a developing and strong community.
During her graduate studies, Audra worked as a consultant for PwC Middle East, where she conducted research on community preventative healthcare in the Gulf Cooperation Council. Following graduation, Audra worked as a Junior Economist on the U.S. Agency for International Development (USAID)'s Fiscal Accountability and Sustainable Trade (FAST) project, where she had an accelerated course in all things PFM. Highlights of her time on FAST include: conducting research and co-writing a case study on PFM reforms in Liberia, designing and managing USAID's behavioral economics pilot training course, and working on clearance of South Sudan's domestic expenditure arrears.
M.Sc., development management with a specialization in applied economics, London School of Economics and Political Science
B.A., economics and women's and gender studies, University of North Carolina at Chapel Hill
x
RELATED CONTENT:
Craig Davis has more than 20 years of experience in international development, education and training, research and publication, technical assistance, and capacity building.
Read More