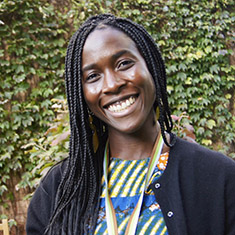 Araba Sapara-Grant is a Manager with DAI's Sustainable Business Group. She brings technical experience in digital development and private sector engagement to her work supporting research, program implementation, strategy development, and thought leadership for DAI projects. Currently, Araba serves as the Program Development and Learning Manager for the Mastercard-funded Strive USA program, an initiative designed to increase access to capital, technical assistance, and digital tools for U.S. small businesses. Prior to this position, Araba was a Digital Specialist with DAI's Center for Digital Acceleration where she specialized in digital agriculture and supported research, technical delivery, and business development. In addition to these responsibilities, Araba also helps lead DAI's first employee resource group, DAI Noir. She has work experience in Cameroon, Kenya, Senegal, Tanzania, and Uganda.
M.A., global human development, Georgetown University
B.A., international relations, Syracuse University
x
RELATED CONTENT:
Jeanne Ellis is a Director for DAI's Sustainable Business Group, where she manages a portfolio of projects in social impact management, local content development, and corporate social investment.
Read More