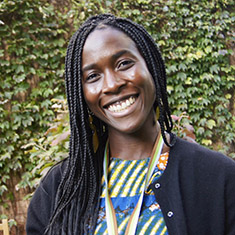 Araba Sapara-Grant is a Digital Specialist at DAI's Center for Digital Acceleration. Araba brings technical experience in agriculture, food security, and private sector engagement to her work supporting research and business development for digital and ICT-focused projects. Previously, Araba worked as a Junior Associate for the Global Alliance for Improved Nutrition (GAIN), a Summer Associate with Coca-Cola Central, East and West Africa Limited, and a Graduate Consultant with myAgro. Araba has conducted research on the incentives and trends shaping digital financial services in Senegal, and strategies to mainstream climate adaptation into market systems development interventions.
M.A., global human development, Georgetown University
B.A., international relations, Syracuse University
x
RELATED CONTENT:
From her early research in cultural anthropology to subsequent work in management consulting, Krista Baptista has always been engaged around ways to do things better and empower entrepreneurs to use new skills and tools.
Read More