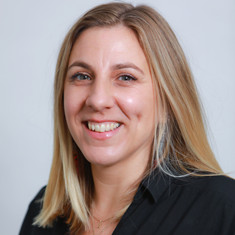 As Director of Programs for DAI's Sustainable Business Group, Amy Wilson-Lee oversees the delivery of a varied portfolio of projects that specialise in supporting companies to accelerate their progress in energy transition, social and environmental integration, and supply chain reorganization. Amy has significant experience in project and team management and delivery; financial management; strategic planning; business development and knowledge management.
She previously served as Head of Programmes for DAI Global Health UK, managing a portfolio of projects funded by the UK government's Foreign, Commonwealth and Development Office (FCDO), including the Prosperity Fund Better Health Programme in Mexico; the Tackling Deadly Diseases in Africa programme; and the flagship Women for Health programme in Nigeria. Prior to this, Amy worked at WISE Development International, a DAI company, first as a Head of Business Development & Operations and then as Gender Equality and Social Inclusion (GESI) Global Practice Manager.
Before joining DAI, Amy held several other leadership roles focusing on project and client management for various sectors, including for an education-focused software development company.
x
RELATED CONTENT:
Jeanne Ellis is a Director for DAI's Sustainable Business Group, where she manages a portfolio of projects in social impact management, local content development, and corporate social investment.
Read More