Nigeria—Youth-Powered Ecosystem to Advance Urban Adolescent Health and Well-Being
The Youth-Powered Ecosystem to Advance Urban Adolescent Health and Well-Being activity empowers young Nigerians to think about their futures differently and access the skills, social capital, and resources needed to realize their aspirations. The program works to improve the health and well-being of urban, low-income adolescents, ages 15 to 19, by increasing voluntary family planning uptake, situating family planning within a broader, more holistic context that encompasses: 1) enhancing youth life skills for healthy living and future planning; 2) fostering an enabling social and policy environment for adolescent health and development; and 3) increasing youth workforce readiness, job opportunities, and entrepreneurship to address socioeconomic determinants of adolescent health.
Our Nigerian partner firms are Yellow Brick Road, the Youth Empowerment and Development Initiative, and the Women Friendly Initiative, and an international organization, Grassroots Soccer.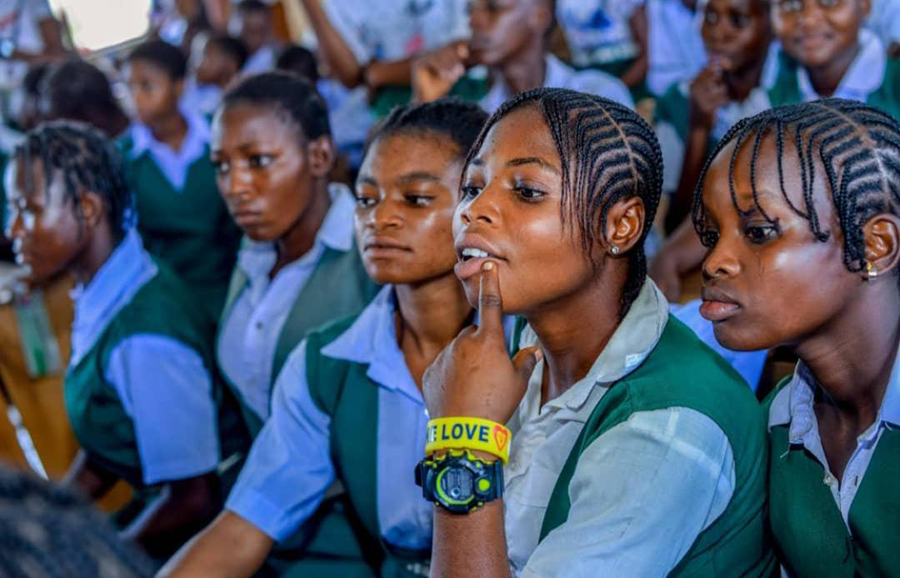 Sample Activities
Establish youth-friendly sexual and reproductive health and rights service and other social support.
Integrate youth-led, human-centered design to ensure that project interventions meet adolescents' needs.
Implement social and behavior change activities combined with youth engagement with local policy makers and private sector partners.
Train and mentor youth in leadership and policy advocacy skills.
Facilitate partnerships to enable youth access to entrepreneurship training, incubation, and microfinance to increase self-employment.
Select Results
Engaged in national and state adolescent technical working groups: The team participated in national working group and Lagos State working group meetings and contributed technical inputs to the national policy on the Health and Development of Adolescent and Young Persons in Nigeria. In Lagos and Kano, the team engaged with the State Ministry of Health and the State Primary Health Care Management Boards.
Conducted formative research that explored the characteristics, interests, behaviors, and needs of urban adolescents aged 15-19.
Established partnerships with the private sector.
Formed Youth Advisory Committees in Lagos to ensure youth have a voice in project design and that the project remains nimble and responsive to adolescents' health and well-being needs.
x
RELATED CONTENT:
DAI is working to improve the legislative and institutional capacities of Turkey to facilitate the Acquis alignment process in the field of transport.
Read More