Jordan, Egypt, and Palestine—Arab Women's Enterprise Fund (AWEF)
Funded by the U.K. Department for International Development and working in Jordan, Egypt, and Palestine, Arab Women's Enterprise Fund (AWEF) was the first project of its kind. AWEF stimulated increased women's economic empowerment through a market systems approach. This partnership addressed gaps in women's economic empowerment in the region, which has one of the lowest rates of female labour force participation in the world. AWEF improved gender awareness and sensitivity across target companies' human resources policies, increased employment and retention of women in the labour force, and raised awareness and uptake of standards and certification of products made by women working at home. AWEF tested innovative ways of working with the public and private sector to empower women and encourage them to more actively participate in markets and to support businesses be more inclusive of women.
DAI was joined by subcontractors Market Share Associates, a global social enterprise focused on collaborative approaches to international development; Education for Employment, a nongovernmental organization working throughout the Middle East and North Africa; and Positive Planet International, a nongovernmental organization working to create the conditions for resilience and professional, cultural, and social sustainable development.
AWEF reached 578,241 women across Egypt, the Occupied Palestinian Territories and Jordan through its interventions, facilitated the generation of £840,000 in additional income to women in Jordan, and helped 1,142 market actors adopt AWEF-supported practices.
For more lessons learned, see our AWEF Learning Series.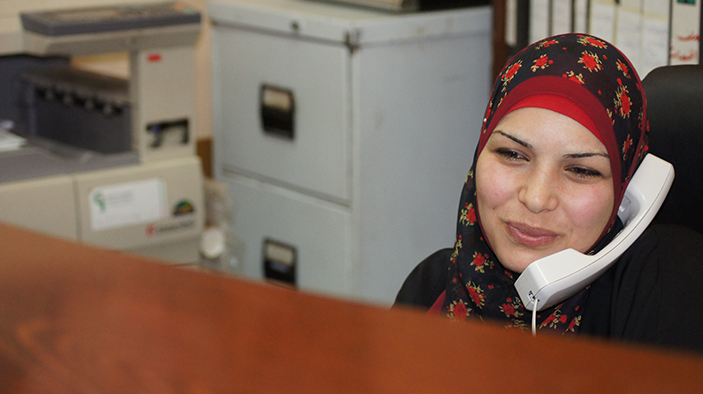 Sample Activities
Support businesses to increase the focus on women's working conditions, including gender-sensitive recruitment, human resource management and training policies in Egypt's food retail, citrus, and ready-made garment sectors.
Assist home-based female producers in Jordan's dairy sector to raise awareness of the value of testing and certification of products to increase their competitiveness and value.
Work with government standards institutes, the private sector, and women producers of food products such as maftoul, cheese, and yoghurt to streamline certification processes and services and better enable women to move up the value chain.
Support introduction of fee-based, female paraveterinary services to make basic animal health care services more available locally, particularly to home-based production run by women.
Select Results
Launched a female agent network for digital financial services in Egypt and Jordan, leading to more than 34,000 additional female e-wallet users. Mobile money is a critical way for women to have greater control over their finances and be able to expand their businesses.
Designed and developed a customised AWEF Disadvantage Assessment Tool, now in use in all three countries.
Set up a milk supply network of 189 to 250 women with a dairy processing company; it will be scaled to 500 women in the following year.
Supported 331 home-based dairy entrepreneurs in Jordan, generating higher incomes and contributing to positive perceptions of female-owned, home-based businesses.
Supported, in conjunction with 14 Jordanian Municipalities, the creation of Women's Economic Empowerment Units, creating spaces within the local administration for women to learn about business registration, small business requirements, and to create linkages with other businesses for sale of products.
Engaged with major Egyptian retailers to increase the hiring of women.