Afghanistan—Promote: Women in the Economy (WIE)
The U.S Agency for International Development (USAID)'s Promote: Women in the Economy (WIE) program is bolstering women's inclusion in Afghanistan's economy and working to ensure that progress made by Afghan women over the past decade endures and advances.
With its focus on both private sector and workforce development, WIE is based in five economic zones across the country and works across 30 Afghan provinces. WIE assists women-owned businesses and businesses that employ at least 10 percent women to perform better, increasing the income growth and sustainability of these businesses. The program provides technical assistance, industry-specific business skills training, and improved access to markets to leverage growth in the private sector.
To help female jobseekers, WIE supports educated women the ages of 18 to 30 in finding new or better jobs through career counseling, workplace skills development, and technical skills training based on market demand. This is done by partnering with local educational, vocational, and technical training providers to deliver services, and by funding scholarships for training and certification programs. The project also supports internships, apprenticeships, and job placement services that give women the opportunity to gain work experience, prove their capabilities to employers, and secure new or better positions. WIE also incentivizes companies to improve workplace environments for women.
Consortium partners include Afghan firms Afghanistan Holding Group, Afghanistan Center for Excellence, Afghanistan Microfinance Association, Rumi Consultancy, and RSI Consulting (M&E), as well as the Thunderbird School of Global Management at Arizona State University.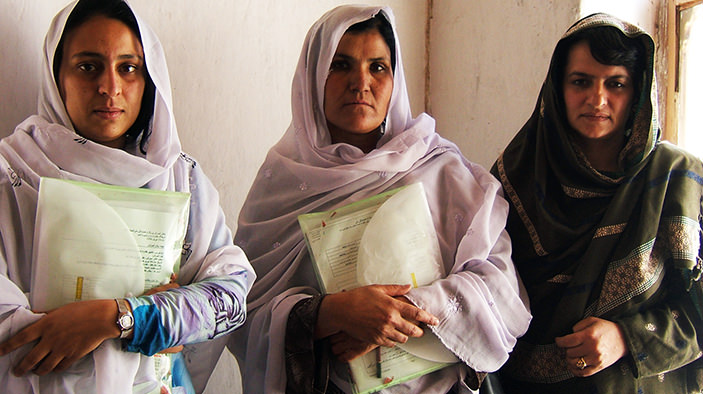 Sample Activities
Strengthen career counseling and job placement services.
Facilitate access to market-oriented education, skills training, and work experience for women.
Assist businesses that employ women to access market information, finance, and form commercial relationships.
Support increased women's opportunities for leadership career paths.
Support businesses employing women with the development of industry-specific skills-based business plans.
Mentor program beneficiaries through job readiness preparation, through internships or apprenticeships, on to eventual full-time job placement
Select Results
Placed close to 7,000 women in internships or apprenticeships, many within the health care industry.
Placed 70 young women into microfinance trainee programs within six different microfinance institutions, located in three urban regional centers.
Awarded 1,300 women scholarships to train in areas such as finance and banking, information technology, and retail sales.
Provided 25,000 hours of job readiness training nationwide for 1,600 young women.
Facilitated 157 small loans, which combined with WIE's direct-loan facilitation services are worth approximately US$170,000.
Worked with a media firm to create a TV show designed to take on cultural norms and create dialogue.
x
RELATED CONTENT:
Following on the original Africa Lead project, Africa Lead II is building the capacity of local leaders to develop, manage, and lead programs aimed at increasing agricultural productivity and food security.
Read More