Afghanistan—Regional Afghan Municipalities Program for Urban Populations, Regional Command West (RAMP UP West)
Afghan municipalities have long suffered from underinvestment, limited support, low revenues, and weak institutional capacity. As a result, services and infrastructure in municipalities are minimal. Of the total population of urban households, only 10 percent have piped water systems; only 20 percent of households have consistent city power—and 14 percent lack any access to electricity. Inadequate sanitation services result in high rates of infant mortality. Community and social amenities are deteriorated or absent.
The Regional Afghan Municipalities Program for Urban Populations, Regional Command West (RAMP UP West) project helps the Government of the Islamic Republic of Afghanistan (GIRoA) establish capable, legitimate governance at the municipal level in all four provincial capitals under ISAF Regional Command West, Herat, Farah, Chagcharan, and Qala-e-Naw. Its primary customers are municipal officials—mayors, revenue officers, engineers—and the citizens that benefit from municipal services.
RAMP UP West takes a "learning by doing," approach by helping municipalities implement visible service delivery improvement projects. Through these projects, municipal officials will not only improve their capacity to deliver services themselves, but will increase citizen satisfaction with, trust in, and support for the municipal government. The embedded technical advisors with municipal staff provide necessary resources and build the capacity of municipal staff to better perform their core management responsibilities, such as improving service delivery, supporting economic development, ensuring sound financial management, expanding revenues, and enhancing transparency and accountability. All programming puts municipal officials in front of their citizenry, demonstrably in charge of projects and activities made possible with RAMP UP funding. Municipal officials lead, directing participatory planning processes and overseeing implementation.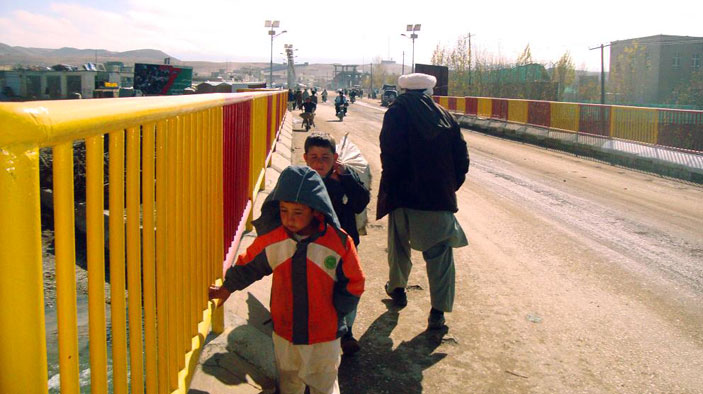 Sample Activities
Increase the capacity of GIRoA municipal officials.
Improve the delivery of municipal services to citizens.
Boost municipal capacity to enable, support, and sustain economic growth.
Support citizen participation and civil society engagement including women and youth.
Select Results
Assisted municipalities to implement 16 key infrastructure and service delivery projects previously identified by citizens as urgent needs, including construction of sidewalks, rehabilitation of roads, bridges and drainage canals, building of Boulevards, parking lots, garbage bins and public green spaces.
Developed Municipal Management and Capacity Building Plans for each municipality and trained so far more than 200 municipal officials in municipal finance, public administration, revenue enhancement, business registration, public relations and outreach, construction management, and public works maintenance.
Supported municipal officials in all four partner municipalities to hold two budget hearings each that allowed for citizen input into the budget preparation process.
Supported three partner municipalities to hold Youth and the Municipality Seminars bringing together 145 young people together with their government to discuss city planning and touch on key issues such as cleanliness of the city and the role youth can play in keeping the city clean.
Produced Service Delivery Improvement Plans that involved citizens expressing their service needs/priorities and identifying specific projects during 44 sessions at the district level (2,650 residents). Municipalities used these plans in their budget commissions to guide preparation of their next year budgets.
Established multistakeholder Economic Development Steering Committees in each partner municipality to facilitate the inclusive development of Strategic Economic Development Plans.
x
RELATED CONTENT:
TASHAROC works to support inclusive development and reduce political and economic disenfranchisement in the Northern Moroccan region.
Read More