February 28, 2022
Speaker of the U.S. House of Representatives Nancy Pelosi and seven U.S. House Representatives—Ted Deutch, Bill Keating, Ro Khanna, Andy Kim, Barbara Lee, Adam Schiff, and Eric Swalwell—attended the launch last week of the Small and Medium Enterprise Assistance for Recovery and Transition (SMART) project in Palestine. Pelosi praised the efforts of the U.S. Agency for International Development (USAID) and the project.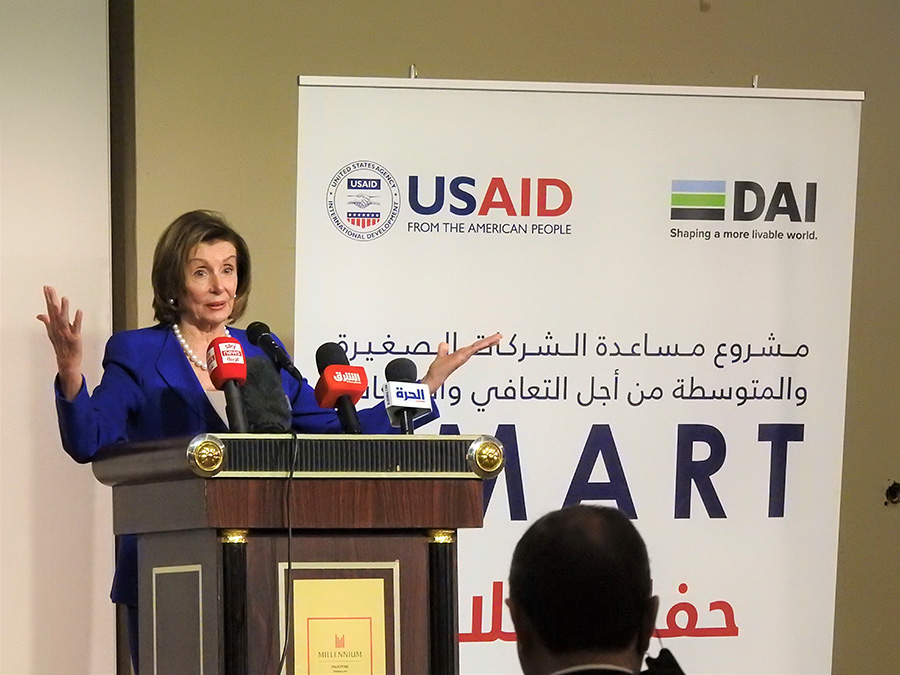 Speaker of the U.S. House of Representatives Nancy Pelosi discusses the important role of small businesses. Photo: U.S. Embassy.
SMART is the first major USAID/West Bank and Gaza project since 2018. It offers a combination of immediate financial support for small and medium-sized enterprises (SMEs) and sustainable systemic strengthening for the Palestinian economy. SMART seeks to help Palestinian SMEs and startups rapidly recover from shocks and put them on a path to revitalization, creating job opportunities for a growing—and young—population.
The February 17 launch was also attended by 50 Palestinian businessowners and industry leaders. USAID/West Bank and Gaza Mission Director Aler Grubbs kicked off the event by describing how COVID-19 has devastated the private sector and how SMART is working to get SMEs and startups back to business. "Production and services decreased by 93 percent, and sales decreased by at least 50 percent," said Grubbs, noting that SMART in its first year aims to support more than 100 Palestinian companies, train employees on modern technologies, and generate new, sustainable jobs.
"I always say that starting a small business is the most optimistic thing a person can do," said Pelosi. "And that applies to medium-sized businesses as well."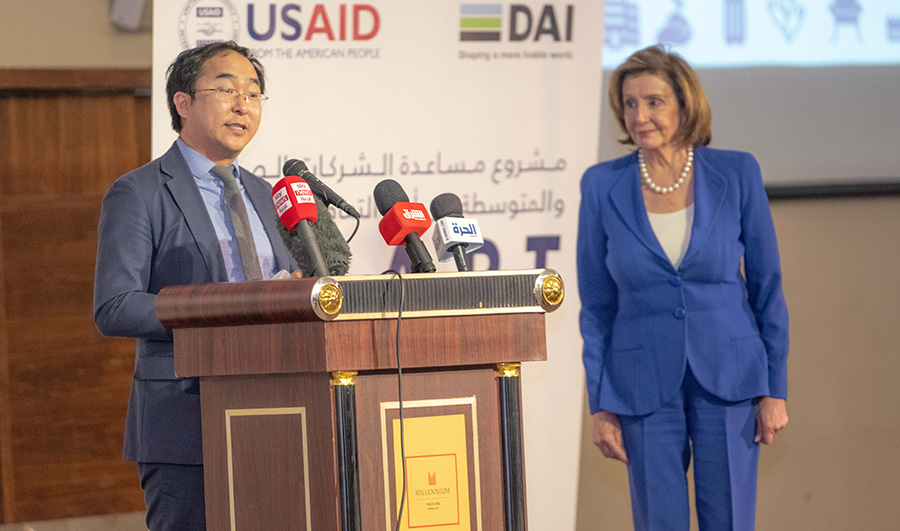 Congressman Andy Kim addresses the audience during the project launch. Photo: U.S. Embassy.
Kim, who sits on the House Foreign Affairs Committee, reflected on how he began his career at USAID. "I believed then, and I still believe now, that it [USAID] serves a noble cause—a cause to represent the best of America," said the Congressman.
Lee, in her role as Chair of the State, Foreign Operations, and Related Programs Subcommittee of the House Appropriations Committee, was instrumental in securing the funding to West Bank and Gaza that made SMART possible. "It's such an honor to be with you today," said the Congresswoman. "So often we fund initiatives, and we never get to see the launch. We never actually get to be with the people who are going to be doing the job."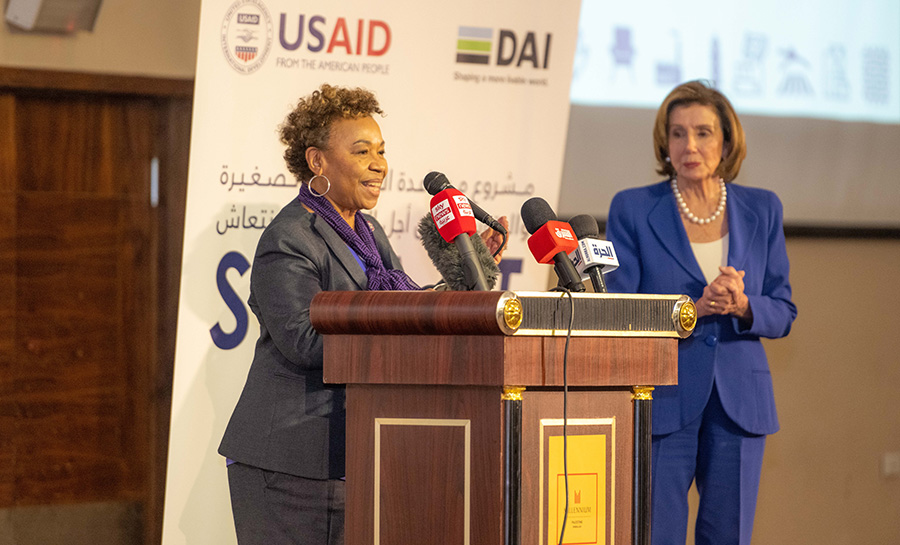 Congresswoman Barbara Lee told the audience about her experience as a small business owner and praised the 'spirit, creativity, entrepreneurship, vision, and steadfastness of the Palestinian people.' Photo: U.S. Embassy.
SMART Chief of Party Said Abu Hijleh concluded the proceedings with a brief presentation of the project, then he invited the Pelosi and the Congressional Delegation to a reception with Palestinian business leaders.
SMART is scheduled to run through 2025.