Now Available: The Summer 2018 Issue of DAI's Developments Newsletter
July 20, 2018
The Summer 2018 issue of DAI's Developments newsletter is now available.
Our lead story looks at Nigeria—Africa's most populous nation—and how the oil-rich nation can fulfill its significant economic upside. DAI's Nigeria Country Director Joe Abah, trade and investment expert Juan Estrada-Valle, and market systems specialist Bill Grant discuss issues such as the impact of the country's devalued currency, which has increased Nigeria's competitiveness.
Across the continent, a Kenya-based USAID program helped leverage $100 million in commercial investment in sectors as diverse as agribusiness, mobile technology, and apparel. In addition to filling market needs in East Africa, the USAID East Africa Trade and Investment Hub is demonstrating that private investors can invest and profit in developing nations when presented with sound, market-driven opportunities, and where risk is mitigated by means of carefully deployed donor capital. DAI's Brigit Helms and Kanini Mutooni explain.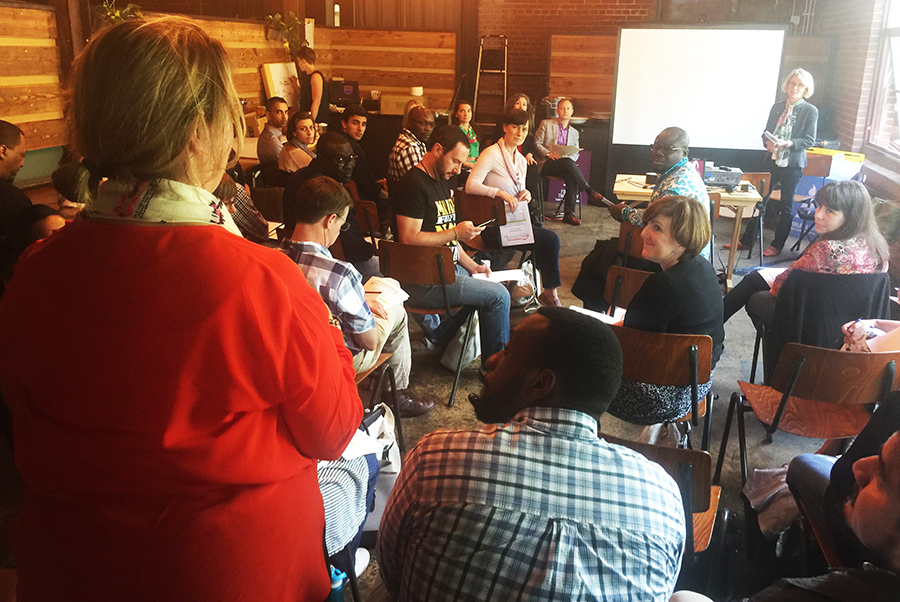 SwitchPoint conference breakout session that examined how health care entrepreneurs can improve their business proposals.
In North Carolina, the 7th annual SwitchPoint conference, photo above, brought together 400 technology and health experts to brainstorm tech-fueled solutions in health care. Attendees came away with new ideas for how applied technology can accelerate health results for the world's suffering people, especially in marginalized locales, reports Developments Editor Charles Coon.
Other features:
When market forces are harnessed in developing countries, great things can happen—such as countries with surplus food selling to countries that need food, writes Yohannes Assefa.

Most of Africa's food supply is dependent on seed, and the number one seed challenge in sub-Saharan Africa is quality. DAI's Tracy Mitchell and Don Humpal make four recommendations that would improve seed systems to benefit millions of smallholder farmers.

The USAID Jordan Workforce Development project helped Jordan establish employment services driven by supply and demand that can flexibly address the country's youth unemployment bubble, reports Samer Badawi.

Also from Jordan, DAI Board member Marwan Juma reflects on what the Kingdom has learned from its efforts to mobilize business and create jobs on the frontline of the Syrian refugee crisis.

DAI has again been named a main implementing partner for the European Commission (EC) 2018–2022 Frameworks contracts, an agile development programming tool to quickly source and execute short-term research and pilot projects around the world. DAI's Adam Pierzchala reports.

A DAI-led consortium provided the U.K. Department of International Development with guidance to inform programming that addresses the 75 million children who cannot go to school because they have been driven from their homes by war, crisis, and natural disaster. Christian Haussner summarizes the recommendations.
Young people in Lebanon who wish to start or grow social enterprises to help address the country's challenges—including problems stemming from the Syrian refugee crisis—are making progress with assistance and funding from the U.K. Foreign and Commonwealth Office. Story by Hoda Salman.
To sign up for DAI news, newsletters, technical articles, and job postings, click here.
x
RELATED CONTENT:
DAI is today mourning the passing of Bryan Haddon, the founder and former Managing Partner of Health Partners International (HPI), which became part of the DAI Global Health team last year. He died on April 25 of mesothelioma.
Read More